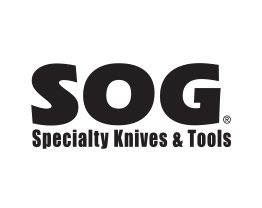 Item #: 332372040
The SOG PowerLock Traveler retains many of the features of the original PowerLock. To make it friendly for air travel restrictions, it omits the sharp blades. It complies with TSA regulations as of August 2014 and has been tested in airports around the world. Note that final approval is at the discretion of each individual TSA agent and regulations may vary from country to country.
The PowerLock's success over the years has been documented by countless testimonials. It is our workhorse and the center for our entire multi-tool line. Flip opening, locking components, gear covers, auxiliary handle covers, and hex construction are all standard.
As one of the original multi-tool manufacturers, SOG has learned quite a bit over the years, like how to make the toughest tools with patented gear driven Compound Leverage™ mechanisms. They know that quick access is a must. Just flip one of their tools out with one hand and the pliers are ready for action. Versatility in the field is a necessity and heavy duty construction provides access. There is also a myriad of features that you might not readily see, like drivers, files, and other tools.
Features:
Exclusive patented Compound Leverage generates twice the gripping power
Satin polished stainless steel handles and plier head.
Total Components: 16
Features individually locking components
Includes ballistic nylon carry pouch
Vendor Lifetime Warranty
Specifications:
Overall Length: 7.0"
Closed Length: 4.6"
Weight: 9.1 oz
Blade Steel: 420 Stainless
Tools Includes:
Needle Nose Pliers
Hard Wire Cutter
Gripper
Bottle Opener
Can Opener
¼" Driver
Robertson Drive
3-Sided File
Crimpers
Scissors
Slotted Screwdrivers (S/M/L)
Phillips Screwdriver
Rulers