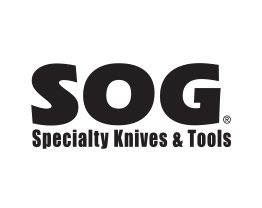 This SOG Knife Kit includes a Centi I Knife, a KeyTron Knife and a R1 Knife.

Designed to go wherever you go, the Centi knives can easily be carried on any keychain or lanyard. The Centi I is a small and versatile knife made from quality stainless steel and designed to be carried on a key ring or stashed in your pocket. It features a slip joint design and 1.4-inch stainless steel blade in a simple design. This tiny tool is thinner than most car keys, but strong enough for light duty cutting tasks. Its full stainless steel construction make this a durable go-to tool.

The KeyTron is a folder that fits right in with everything on your keyring! This manual folder features a 1.8-inch blade on a slim, lightweight handle. It also comes with a bottle opener and has its own keyring that opens with a simple latch. With the KeyTron, you'll have a knife as handy as your car keys.
Features:
KeyTron Features:
A single sharpened edge on the blade provides clean cuts and easy serviceability
Clip Point blade shape moves the tip closer to the center line for improved piercing-style cuts
Lockback locking mechanism is a basic lock that uses a lockbar with spring tension to hold the blade in the open position
Stainless Steel handle material does not readily corrode, rust or stain with water as ordinary steel does
Bottle opener
Keychain attachment
Centi I Features:
Straight Back Blade

Slip Joint locking mechanism is held in place with spring pressure
Stainless steel handle
Specifications:
KeyTron Specs:
Overall Length: 5.3"
Closed Length: 3.5"
Blade Length: 1.8"
Blade Thickness: 0.08"
Weight: 1.3 oz / 36.9 g
Edge Type: Straight
Centi I Specs:
Closed Length: 2"
Blade Length: 1.4"
Blade Thickness: 0.05"
Weight: 0.4 oz