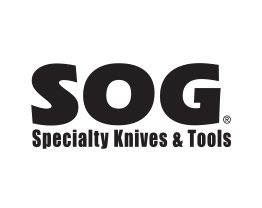 Item #: 332632772
A smaller version of the award-winning Flashback, this lightweight little knife is a super quick assisted opening model that's strong enough and fast enough to take on everything life throws at you.
Last year, SOG introduced its Flashback to rave reviews. The larger Flashback captured various awards and the Mini could, too, for packing so much in such a small package. Yes, the Mini is a smaller choice, but, like its bigger and older brother, it still utilizes SOG's most advanced version of patented Assisted Technology. The 3-inch blade is made of durable AUS-8 stainless steel while its low profile, light weight, stylish look and a reversible pocket clip make it a perfect choice for everyday carry.
Features:
SOG Assisted Technology (S.A.T.) works through the balance of opposing high-tension coil springs. As you initiate the opening action, the force propelling your blade open becomes greater than the force keeping it closed. The result is a blade that springs open instantly once it is engaged, seemingly on its own.
Specifications:
Overall Length : 6.95"
Closed Length: 3.95"
Blade Length: 3"
Blade Thickness: 0.125"
Weight : 2.80 OZ
Vendor Style Number: 729857000529