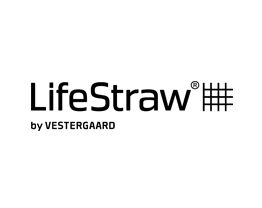 Item #: 332532155
LifeStraw Flex is a multi-use water filter that reduces lead and heavy metals and removes bacteria and parasites. The basic kit includes a soft-touch bottle and the filter can be used in 5 different ways.
Features:
Compact, easy to use and carry
Reduces heavy metals, including lead
Versatile with 5 uses in 1 product: use as a personal straw, use with soft touch bottle, adaptable to plastic water bottles, adaptable to hydration bladders and adaptable to LifeStraw Mission.
Specifications:
Removes 99.999999 % of bacteria
Removes 99.999 % of parasites
Reduces organic chemical matter (pesticides, herbicides, VOCs)
Exceeds NSF 53 standard for reduction of lead and other heavy metals
Exceeds NSF 42 standard for chlorine reduction
Exceeds US EPA drinking water standards for bacteria and parasites
Microbiological filter lasts up to 2,000 liters / 500 gallons
Carbon capsule lasts up to 100 liters / 25 gallons
Replaceable carbon capsule
Filter weight: 48 gr. / 1.7 oz
Removes 99.999% of microplastics