GETTING STARTED SNOWSHOEING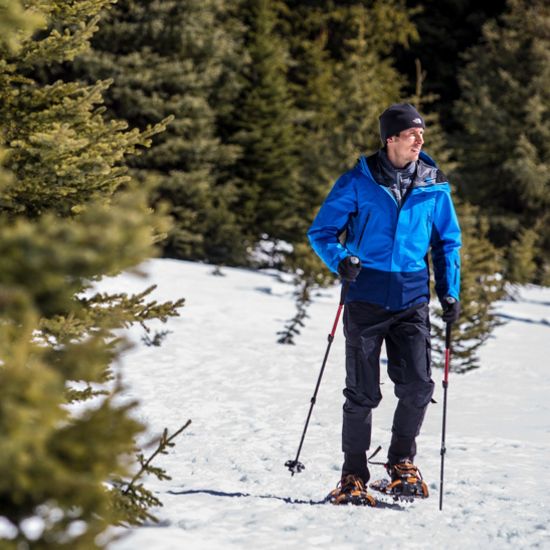 Snowshoeing is one of the most popular winter activities in Canada and is only growing in popularity. People of all ability levels are jumping feet-first into the sport, thanks to its low cost of entry, short learning curve for mastering the fundamentals, and the huge fun you can have starting with your first outing.
Whether you're an avid winter enthusiast looking for another winter activity to add to your roster or you're looking for a new way to stay healthy, happy and fit when the ground is covered in snow, snowshoeing is an excellent sport to get involved in. Before you start striding across city parks and mountain passes, get the information you need to select the right snowshoes, choose appropriate clothing and also learn a few tips for staying safe when conquering winter trails.
"There is a very short learning curve with snowshoeing and you don't need very much snow to be able to go. Also, there are so many places to go snowshoeing and all different types of terrain to explore." Cailyn Hepburn, Atmosphere Department Manager and avid snowshoer. Read about how Cailyn got into snowshoeing.
CHOOSING SNOWSHOES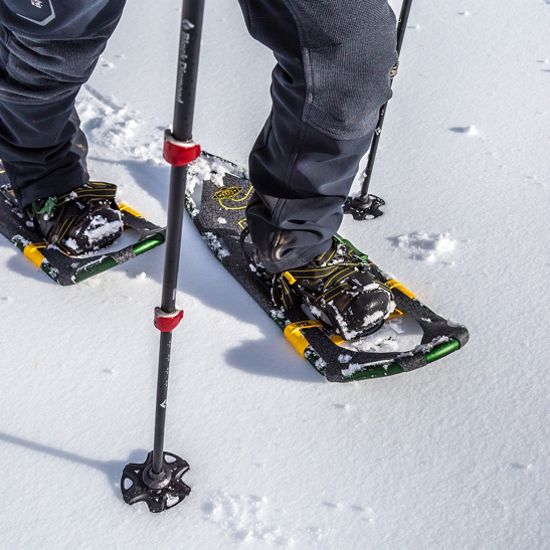 When deciding on the best type of snowshoes to buy for yourself, first ask:
Where will you use your snowshoes?
What are the conditions you'd like to snowshoe in? Will the terrain be flat or rocky? Will there be drastic changes in elevation or will the trail stay relatively flat?
How long will you use your snowshoes?
Short trips to the park and across introductory trails might only require a recreational style snowshoe, but if you're planning longer excursions choosing a backcountry-style pair will better suit your needs.
Snowshoe Sizing
The larger and heavier the snowshoer, the larger the snowshoe required to stay on top of the snow (referred to as float). Men's snowshoes generally feature wider and longer designs to accommodate heavier loads, while women's are narrower and shorter. Always take into account additional pack and gear weight when determining overall load on the snowshoes.
TYPES OF SNOWSHOE DESIGN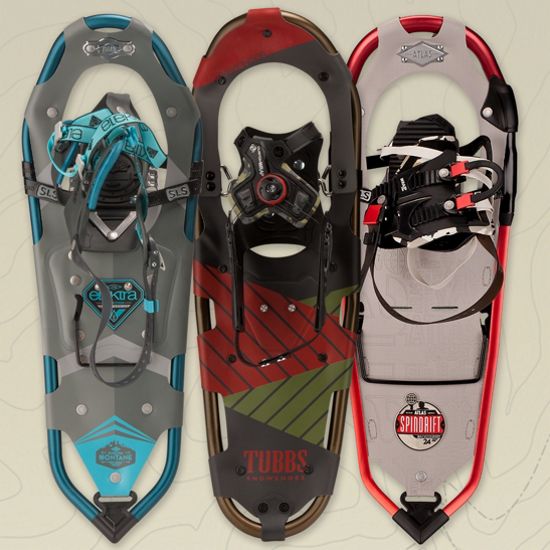 Recreational/Hiking
Recreational or hiking snowshoes are designed for use on flat terrain and low rolling hills. They're easy to get the hang of and come equipped with smaller crampons which provide less aggressive traction and are comfortable over long distances.
Running/Fitness/Racing
These snowshoes are less common but are generally smaller, narrower and lighter. They allow for fast and nimble movements across easy terrain, provide low amounts of traction and are often used on hard-packed trails.
Backcountry
This is the most aggressive style of snowshoe. Backcountry-style snowshoes feature aggressive crampons with excellent traction control and stability over challenging and unexpected terrain. If you're planning a trip across difficult trails with many obstacles and elevation changes, you need a snowshoe that provides support, traction and durability. Many backcountry styles also feature heel lifts or climbing bars for assistance in ascending hills.
SNOWSHOE DESIGN AND FEATURES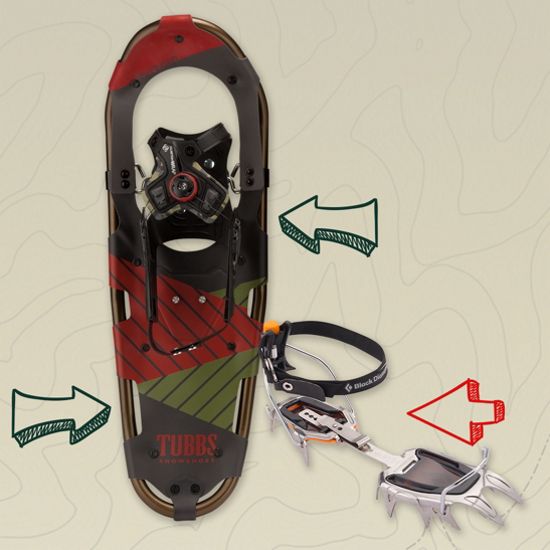 Frame and Deck
A wide and long frame provides increased stability on loose and powdery snow while the smaller and narrower the design of the snowshoe the greater the maneuverability and control allowed. Most snowshoe frames are made with aluminum.
The decking is the support structure within the frame that connects the binding (and your boot) to the outer frame. This area is constructed of flexible synthetic materials.
Bindings
Binding design has evolved a fair bit over the years to allow virtually any snow boot to fit and secure properly within the snowshoe binding rather than requiring specialized snowshoe footwear.
Rotating Bindings
This type of snowshoe binding allows rotation of the foot while secured in the binding to allow for greater control while walking. With each step the tail of the snowshoe falls away, dropping excess snow and reducing leg fatigue, which makes climbing hills easier and promotes a more natural walking gait.
Fixed Bindings
Fixed-style bindings keep your boot and the snowshoe firmly connected at all times. Wearing a fixed binding makes it easier to step high over fallen branches and rocks, makes turning around and walking backwards easier and also provides a comfortable walking motion.
Crampons
These metal spikes affixed to the bottom of your snowshoes increase traction and control on ice and hard-packed snow. More aggressive designs are extremely beneficial when backcountry snowshoeing.
DRESSING FOR SNOWSHOEING
Layering
Your best bet is to follow the same three-layer best practices that you would for any outdoor winter activity. First you'll need a sweat-wicking base layer. These garments are worn tight to your skin and move sweat away from your core outwards, keeping you dry. A good base layer is your strongest defense against the cold on winter days. Choose either Merino wool or a synthetic-material base layer.
Next you'll want a mid-layer to help create a barrier for air to become trapped between your body and the colder outside air. Warm fleece jackets and other light mid-layers create an area for non-circulating 'dead air' to remain trapped and become warm.
Wear either an outer shell or insulated jacket depending on the conditions. Shell jackets offer good defense against the wind and precipitation and likely won't lead to overheating on warmer days. If the temperature is dropping and you need strong protection from wind, snow and the cold, wear an insulated jacket designed to trap warm air close to your body.
Tip: One way to help stay warm is to ensure your body always has a constant source of fuel to burn. Be sure to carry high-fat and high-protein foods with you as well as plenty of water.
CHOOSING SNOWSHOEING ACCESSORIES
Depending on conditions, the right toque and neck warmer, leg gaiters, sunglasses, sunscreen and gloves can drastically improve your time outdoors. Remember that sunshine reflects off the snow on sunny days, creating glare that is hard on your eyes in the long term, reduces visibility, and can lead to sunburns.
Like any recreational activity, it's crucial to stay hydrated throughout the day – pack a water bottle.
Some snowshoers use a clip-on tail accessory to increase stability on powder trails. Many experienced snowshoers find using a shorter set of snowshoes makes them more efficient on trails. But there are times when the snow unexpectedly becomes softer and more powdery which reduces their float. The addition of a clip-on tail provides stability when you need it and allows you to switch back to a more efficient setup when you want.
Tip: Use snowshoeing poles to increase stability over uneven terrain. They can be especially helpful when crossing over fallen trees and branches.
WHAT TO PACK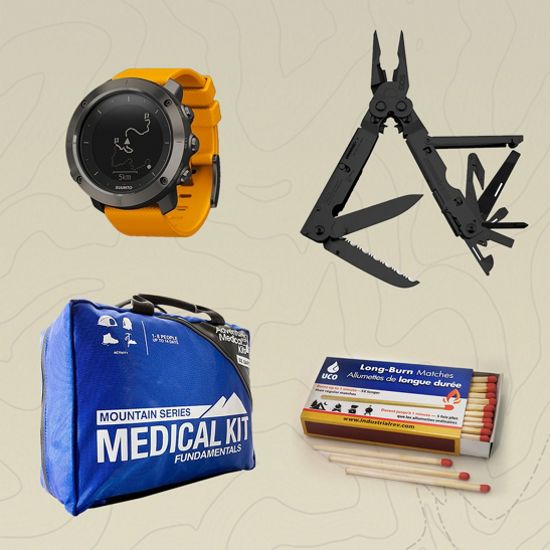 Packing for a snowshoeing outing is similar to packing for a day hike during the warmer months of the year. The only difference is the conditions are more extreme in the winter which can make things more dangerous if you're unprepared.
Carry:
An insulated sleeping pad for emergencies and to sit down comfortably
If you're venturing into backcountry areas or avalanche zones be sure to carry the appropriate avalanche safety gear which includes a probe, shovel, and locator beacon.
Regardless of where your snowshoe route takes you, here is some advice that all winter enthusiasts should consider:
Always carry a map, trail guide, and compass. Make photocopies so you don't have to carry a heavy book.
Make sure you have everything you need to stay dry, warm, fed, and well hydrated regardless of what type of weather hits or if you don't make it to your intended destination.
Carry a first aid kit.
Check the weather before you leave home. Make sure your daypack has everything you might need to stay safe.
Let someone know where you are going and when you expect to return.
Carry plant and wildlife guides to help increase your appreciation of nature.
Obey trail and area closures and restrictions. These are often in place to protect hikers and wildlife from harming one-another or to rehabilitate delicate ecosystems.
CARING FOR YOUR SNOWSHOEING EQUIPMENT
Snowshoeing equipment is an investment in what you most enjoy: time in the outdoors. Make sure you care for your equipment to get years of enjoyment from it.
Before you go:
Check your snowshoe bindings, frames, and decking for damage. Check your poles, too.
Put fresh batteries in GPS, camera, and avalanche beacon.
After your trip:
Allow snowshoes to dry completely before storing. Store hanging or flat. Do not place heavy objects on top of snowshoes.
Lay out all wet clothing and boots to dry before putting away.
YOUR ATMOSPHERE: PRESERVE THE ENVIRONMENT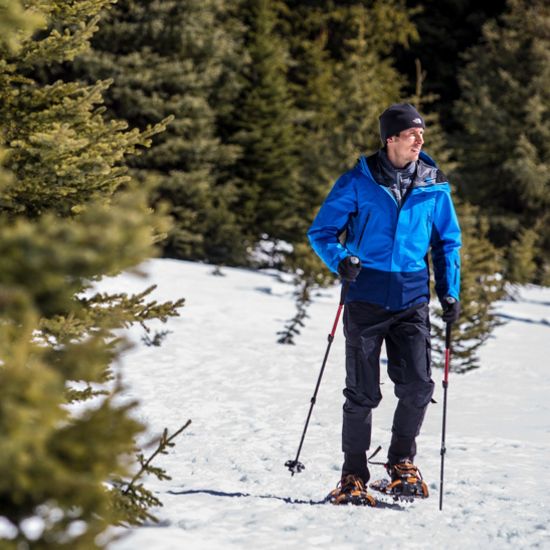 Animals live more difficult lives in the winter. Stay on established trails and do not follow animal tracks.
Never dispose of garbage under snow. Carry out what you carry in.
Be careful not to drop food on the trail. Treat leftover food like garbage.
Obey all rules regarding dogs in snowshoe areas.
Be sure to keep dogs on a leash to stop them from chasing wildlife.
SNOWSHOEING TIPS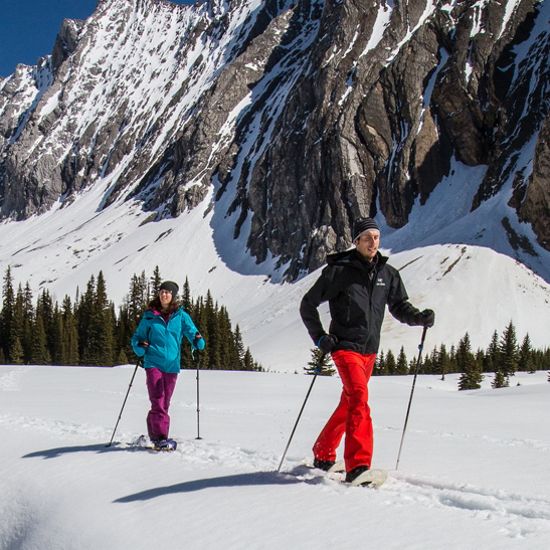 1) Don't cross over frozen bodies of water, no matter how sturdy the ice may look. It's nearly impossible to tell whether it can support your weight simply by looking at the ice.
2) When you're hiking in a group of two or more, the person in front will exert the largest amount of energy as they are breaking new ground with every step. Rotate the first person to the back regularly to help keep your group moving efficiently.
3) Ensure you're two pole lengths behind the person in front of you to avoid getting poked with a snowshoeing pole.
4) Look out for snowbombs, large piles of snow that have accumulated on tree branches above your head. They can easily fall when it's windy or the temperature warms suddenly. Watch out!
OUTDOOR SAFETY ESSENTIALS
Adhesive bandages
Antiseptic wipes
Band-Aids (butterfly bandages)
Gauze pads
Antihistamine (allergy medication)
Epi pen
First aid manual
Sterile pads
Adhesive tape
Ibuprofen or Tylenol
Shop all first aid gear