How to Get Started Winter Hiking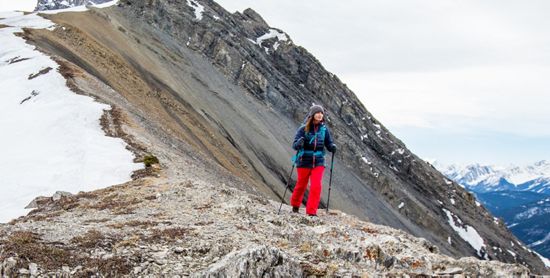 When the temperature drops, some people choose to stay indoors wrapped in a blanket, hot chocolate in hand. Others see it as the best time of year to get outside and enjoy a new and seemingly untouched landscape that few others are willing, ready and able to explore. Winter hiking offers greater challenges and dangers than hiking during the warmer months of the year, but the reward is said to be that much greater.
There are a few key things you should know before heading out for your first winter hiking experience, beginning with your pack and clothing all the way down to survival information and hydration tips.
Choosing a Winter Hiking Pack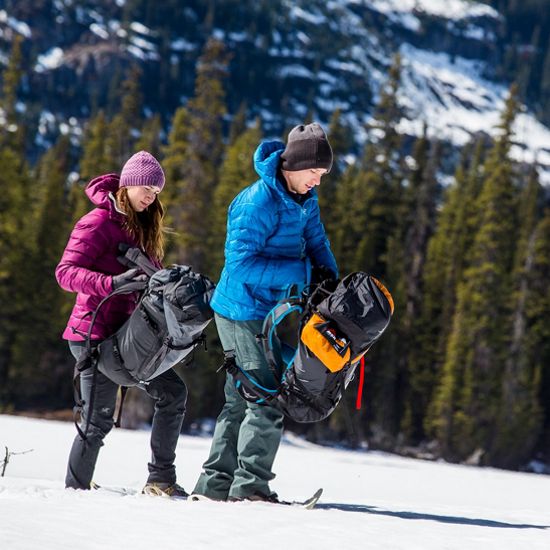 Ease of access, pack size, and durability are three of the most important features to look for in a pack suitable for a winter hike or backpacking trip.
In winter, the amount of gear and apparel you're wearing and carrying is much greater than during the warmer months. Being able to comfortably and easily reach critical tools and accessories like your water bottle, ice pick, crampons, and other winter hiking gear can be crucial to your success on the trail. Look for a bag with external loops and harnesses on the front of the bag for easy access. You don't want to store sharp articles like tools and spikes within the main compartment of the bag and risk ripping the material.
Because you're already bundled up in apparel and gear to keep you warm and safe in the cold, adding extra weight to your load isn't ideal. It's important to search for a bag that's lightweight yet offers the volume you need to carry the essentials. If you're out for a day hike, you might only need a few extra layers (for when you stop moving), extra food and water. In many cases, you may also require extensive safety equipment and avalanche rescue equipment. Many winter hikers' first inclination is to use a larger-than-necessary pack. Using a bag that features an expandable top section will allow you to pack the essentials for staying safe without sacrificing comfort or adding unnecessary weight.
Compression straps can be helpful when dealing with an overstuffed bag. Bags with too much gear tend to throw off a hiker's balance, but this can be counteracted by using compression straps to even out the weight of the bag and make it easier to balance on your back.
Lastly, depending on what type of winter activity you might engage in while outdoors, the durability of your bag (determined by the material) plays a factor in your decision. Lighter materials might be suitable for hiking around outdoors, but as soon as you introduce rocky elements to the excursion, you should consider gearing up with something more durable.
Tip: If you're camping, try packing your tent on the outside of the bag using securing straps so you can pack the rest of your items into the bag while remaining warm inside the tent. The folded-up tent should be the last item you pack.
Choosing Winter Hiking Boots
Choose winter footwear that will not only keep you dry and insulated from the cold but will also enable you to cover more distance than ever with design features focused on comfort and performance.
The outer layer of your winter hiking boots should be waterproof and, in some cases, also seam-sealed to stop water from seeping in at connection points near the sole and laces. GORE-TEX® is a popular waterproof material often used in winter footwear and also in winter outerwear. Insulation within the shoe should help trap warm air next to your foot while allowing moisture to permeate outwards.
Increased traction on ice and slippery trails is also a key consideration when choosing the proper winter boots for your hike. The more challenging the terrain, the greater the grip and stabilizing capabilities of the tread design should be.
Depending on the terrain and conditions of the trails, you might consider equipping your winter hiking boots with traction devices (ice cleats) or crampons to increase grip and stability. Traction devices easily slip over any type of winter hiking boot and the cleats ̶ usually made from steel ̶ provide far greater traction on ice and snow. Ice cleats are best utilized on nothing more intensive than flat to rolling terrain.
Crampons can be used with a variety of winter hiking boots and some boots are specially designed with welts in the toes or heels to accept a wide variety of crampon styles. The majority of crampons used for a winter hike are a strap-on style rather than a step-in style (step-in style crampons require heel and toe welts on the boots). If your boots have only a heel welt, find crampons that can fit with a heel welt but don't require a toe welt. If they have both, find crampons that require both, only heel welts, or neither. Having boots with both heel and toe welts opens you up to a wider variety of compatible crampon styles. If your boots have no welts it's important to find a strap-on style that requires no welts to hold the crampons in place.
One of the most important factors in determining if your winter boots are suitable for use with crampons is whether the boots themselves are rigid and stable enough. A good way to tell is if you can easily bend the toe of your boot upwards towards the heel/ankle, the boots are likely not sturdy enough for use with crampons.
Many manufacturers of winter hiking boots and mountaineering boots consider their designs appropriate for both men and women.
Choosing Winter Hiking Apparel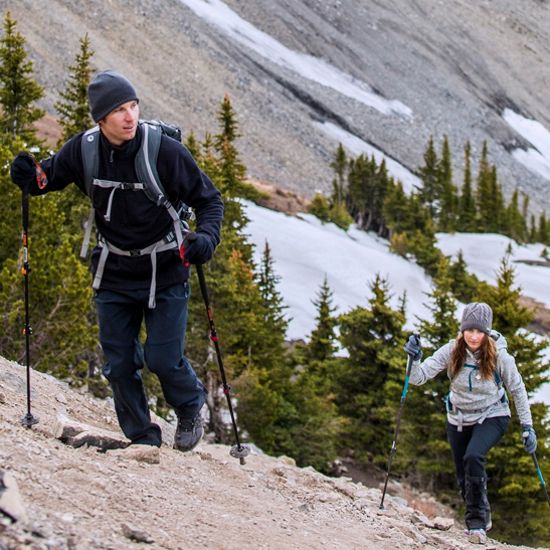 All outdoor winter activities require a clothing system for keeping you warm, dry and moving in the cold.
DRESS LIKE AN ONION
Baselayer
First you'll want to wear a close-fitting layer next to your skin that adequately wicks away moisture. Merino wool and some synthetic materials are designed to push sweat away from your core to more easily evaporate instead of remaining on your skin and cooling you down.
Mid layer
This layer helps to create another barrier between you and the outside air by forming an area of space where non-circulating dead air becomes trapped. Fleece and other lightweight but warm jackets and sweaters serve this function well.
Outer layer
Your insulated jacket is your first defense against the cold, wind and precipitation. It should feature a material such as GORE-TEX™ for stopping any water from seeping in as well as down or a synthetic insulation for trapping your body heat. The best outer layers are not only waterproof and insulated but are also designed to breathe and allow internal moisture to permeate outwards.
Tip: Throw on an extra layer when you stop moving to keep your body temperature from dropping.
Winter Hiking Equipment and Accessories
Depending on conditions, the right toque and neck warmer, leg gaiters, sunglasses, sunscreen and gloves can drastically improve your time outdoors. Remember that sunshine reflects off the snow on sunny days, creating glare that is hard on your eyes in the long term, reduces visibility, and can lead to sunburns.
Crampons
Glacier walking and most general mountaineering routes require the use of these spiked devices—made of aluminum, steel or stainless steel—as they help secure your foot on every step, making it easier for you to balance and push forward on challenging terrain.
Don't worry, many modern crampons are designed for use with normal mountaineering or winter boots rather than specialized footwear. Check whether your boots feature toe or heel welts for accepting crampons. If they don't have either, find strap-on style crampons that work without welts on your boots and ensure the boots you've chosen are rigid and supportive enough for use with crampons.
If your boots have welts in both the toe and the heel, you can fit virtually any type of crampon.
These crampons are recommended for general mountaineering and winter hiking:
Hiking Poles
Trekking poles are extremely useful on winter hikes as they drastically enhance stability over challenging terrain like snow, ice and rocks.
Winter Hiking Safety Equipment
Winter Hiking Safety Equipment
Check the weather when planning your trip. Check it again just before you leave and make any last-minute adjustments to your gear. Don't be afraid to postpone your trip if the weather looks like it might be colder or more extreme than you anticipated.
Avalanche Safety Equipment and Training
Avalanche safety equipment is mandatory when travelling in backcountry areas during the winter. You'll need to outfit yourself with the following equipment and also learn how to use it properly, preferably by receiving hands-on training from an experienced instructor.
Transceivers
Avalanche transceivers have two functions: Broadcasting a signal and receiving signals from other transceivers. Everyone in your group should be carrying a transceiver set to broadcast. If one of you becomes trapped beneath an avalanche of snow, the rest of your party can then switch their transceivers to receive signals and quickly work to pinpoint the location of the trapped person.
Probe
An extendable probe is used to locate a buried person's location deep underneath the snow.
Shovel
Avalanche shovels are designed to be lightweight and easy to carry while still helping to quickly remove large amounts of snow.
Airbag Pack
These backpacks are designed to inflate when the ripcord is pulled, creating a rapidly expanding airbag that helps keep you on top of the snow and also helps create space around you in the event you're fully covered by the avalanche. The extra space can provide a crucial amount of air for you to breathe while waiting for rescue.
It is highly recommended you receive formal training in avalanche safety equipment use and general avalanche safety. If the time comes when you need to put it to use, you'll be able to properly and effectively use the gear.
What to Pack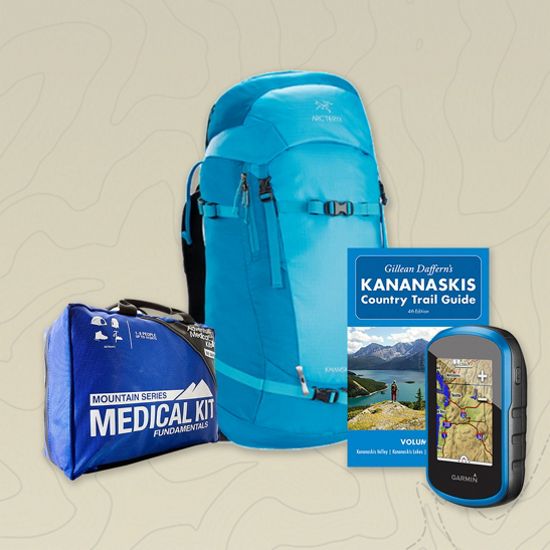 Packing for a snowshoeing outing is similar to packing for a day hike during the warmer months of the year. The only difference is the conditions are more extreme in the winter (possibly resulting in frostbite, hypothermia, pneumonia, etc.) which can make things more dangerous if you're unprepared.
Carry:
Winter Hiking Advice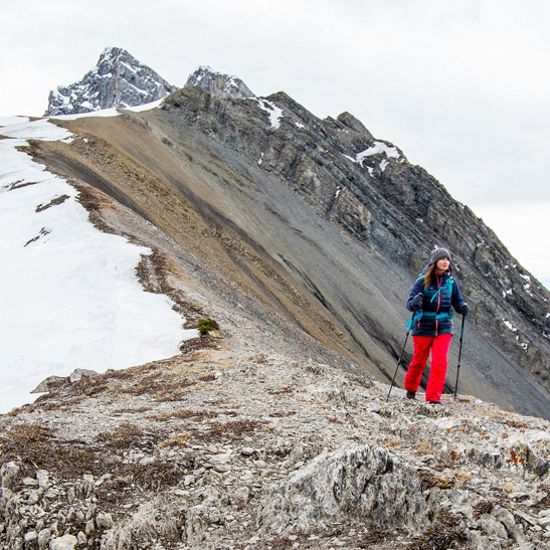 Regardless of where your hiking route takes you, here is some advice that all winter enthusiasts should consider:
Always carry a map, trail guide, and compass. Make photocopies so you don't have to carry a heavy book.
Make sure you have everything you need to stay dry, warm, fed, and well hydrated, regardless of unexpected weather or if you don't make it to your intended destination.
Carry a first aid kit.
Check the weather before you leave home. Make sure your daypack has everything you might need to stay safe if the weather changes suddenly.
Let someone know where you are going and when you expect to return.
Carry plant and wildlife guides to help increase your appreciation of nature.
Obey trail and area closures and restrictions. These are often in place to protect hikers and wildlife from harming one-another or to rehabilitate delicate ecosystems.
Winter Endurance Tips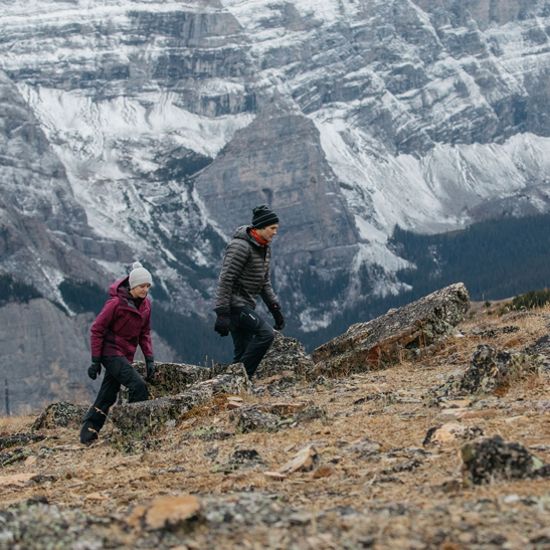 1) Avoid Exhaustion & Chills
Fact: Hiking in the winter is more strenuous than hiking during other seasons. Between having to raise your knees higher and carefully planting every step to avoid slipping on ice or misstepping, your body is also constantly working to regulate your core temperature to keep you from freezing.
Tip: Stay fueled and hydrated throughout the day. High-fat snacks and power bars work well to give your body the energy it needs to keep moving. Because some foods freeze in the cold, keep them in an inside pocket, making use of your body heat.
2) Counteract Dry Air
Fact: It's easier to become dehydrated in the winter because of the low level of humidity ̶ it's all that cold, dry air!
Tip: Drink plenty of water throughout the day even if you're not feeling thirsty and keep your water bottle in a wool sock to prevent freezing!
3) Block The Sun
Fact: Sunshine reflects off the snow to create conditions that are hard on your eyes and your skin.
Tip: Apply sunscreen on exposed skin to protect against the sun and wind, and wear sunglasses to protect your eyes.
4) Cross When Safe
Fact: The water level in some rivers will be higher later in the day as the warming sun melts snow.
Tip: Try to cross rivers earlier in the day to make the trip easier.
5) Always Start Early
Fact: Snow is harder/more frozen in the morning because of the lower temperatures during the night. This makes it easier to walk across without plunging into it (postholing).
Tip: Get an early start on your hike to avoid 'wading' through the snow later in the day.
These articles and posts are designed for educational purposes only. When participating in any exercise or exercise program, there is a possibility of physical injury. Please consult with a doctor prior to engaging in any exercise or exercise program. The use of any information provided is solely at your own risk. Product selection is an individual choice and the consumer is responsible for determining whether or not any product is suitable based on the consumer's circumstances.