HOW TO GET STARTED HIKING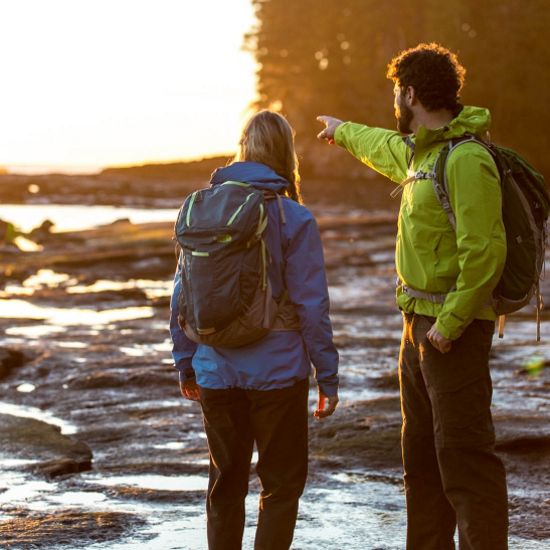 First you'll need to determine the type of hiking you want to do. Knowing where, when and how far you want to hike will allow you to create a detailed plan for your trip including the type of equipment, clothing and footwear you should bring. It will also help you decide how much preparation to do before heading out.
DAY HIKING
These trails tend to be round-trip loops near campgrounds and day-use areas. They are a great way to get moving and to learn more about an area. Hikers can often complete these trails in sturdy shoes. No matter how long you expect a hike to take, always plan to take longer and include enough food and water in your backpack to keep you going if you don't return on time.
BACKPACKING
A backpacking hike with small or moderate elevation gain is a great place to begin but also offers experienced hikers great options for busy weekends or after-work hikes. Often backpackers hiking on gentle terrain only need hiking shoes or sturdy running shoes along with a backpack filled with essential hiking equipment to complete the trail.
EXPEDITION
Expedition hikers undertaking steep or full-day hikes should always plan for the slowest hiker in the group. Expedition hikers should wear sturdy hiking boots with ample ankle support and also carry hiking poles to enhance stability. Special care should be taken to prevent blisters and to carry first aid equipment.
TIPS FOR GETTING STARTED HIKING
1. Even short hikes can become strenuous if you're not prepared for continuous physical activity.
Start with shorter hikes close to home to build up confidence and endurance. Bring a heavy pack with you on these shorter hikes to acclimatize yourself to carrying weight on your back.
Incorporate exercises that strengthen a range of muscles including your feet, ankles and legs (squats, lunges, etc.)
Try walking bare foot at home to strengthen the muscles in your feet and help build callouses.
2. Check the weather before you head out the door to ensure you're packed and dressed appropriately.
3. Don't rush your pace. Especially for your first few hikes, go slow to ensure you get the chance to fully take in the natural surroundings and won't tire yourself out prematurely. If you're tired and in pain after your first hike it might be harder to convince yourself to get out again for another one.
CARING FOR YOUR EQUIPMENT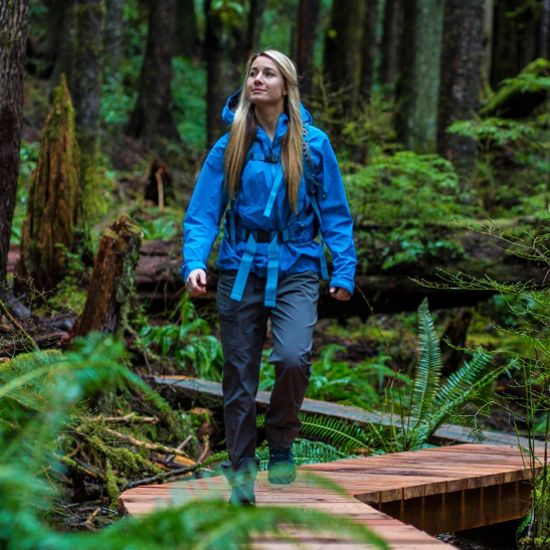 CARING FOR YOUR EQUIPMENT
Hiking equipment is an investment in what you love most: spending time in the outdoors. Spending a little bit of time maintaining your equipment can help you get the most out of it and make sure it lasts.
BEFORE YOU GO:
Lay out all of your gear to make sure you have everything you need and then pack it all in a sturdy daypack.
Make sure you have food for the entire trip and some back-up nutrition in case of emergency.
Condition the leather on your hiking boots and make sure your laces are intact.
Leave a trip plan with a trusted friend or family member.
AFTER YOUR TRIP:
Empty your backpack completely to let wet clothing and equipment dry out.
Don't leave any garbage in your backpack.
Share photographs and memories with friends and family to help spread the love of the great outdoors.
YOUR ATMOSPHERE: PRESERVE THE ENVIRONMENT
Pack out all garbage (even if it's not yours).
Relieve yourself at least 70m from streams and lakes.
Hike in tight groups to allow wildlife ample time to cross the trail between human groups.
Do not remove any interesting plants, fossils, or other findings. Leave these in place as they are part of the ecosystem and will be enjoyed by other hikers, too!
Make noise to let wildlife know that you are in the area. They will likely flee if they know you are around.
10 ESSENTIALS FOR HIKING
CHOOSING A DAY HIKING BACKPACK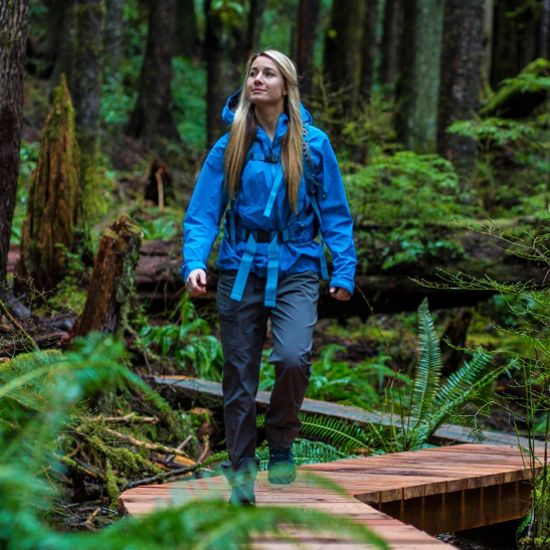 On a hike that won't require you to carry overnight gear like a tent and sleeping bag it's ok to carry something smaller and highly functional between 20 and 30 litres.
TOP-LOADING OR PANEL-LOADING BACKPACKS
Some hikers prefer top-loading backpacks that secure with a drawstring or simple enclosure because they're easy to pack, and can sometimes expand to allow for extra room. They also tend to be more lightweight than a panel loading bag.
Panel loading bags make accessing and organizing your clothing and equipment easier because you're able to get a nearly full view of all items in the bag and might not need to repack everything when retrieving one item.
COMFORT & PERFORMANCE FEATURES
Even on shorter trips, having breathable mesh straps and backing can make all the difference in keeping you cool, dry and moving with ease.
Quick-access side pouches allow you to keep a water bottle and bear spray within arm's reach at all times during your hike – both critical to your safety and enjoyment while on the trail.
Compression straps and extra harnesses make it easier to secure the gear in your bag. They're designed to keep the bag from bouncing around while walking, making it easier for you to keep your balance.
DAY HIKING CLOTHING
When hiking, you will work up a sweat and likely be very warm. As soon as you stop, however, the sweat will begin to make you feel chilly. Dress in moisture-wicking, layered clothing. Cotton should be avoided as it dries very slowly and will lead to being cold.
Day hiking boots
Hiking socks (sweat-wicking, supportive)
Soft-shell pants or shorts
Mid-layer
Waterproof jacket & pants
CHOOSING DAY HIKING BOOTS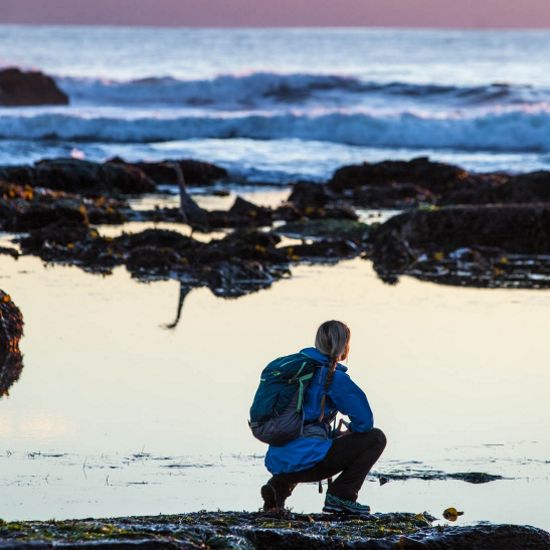 The type of hiking boots you choose depends on a few factors including where you plan on hiking, how long, what time of year and also your foot type.
WATERPROOFING & WEATHERPROOFING
Hiking during the summer months means you likely won't need insulated boots, but waterproof material on the upper and outer layer of your boots are a huge plus. Even if you plan your hike around dry, favourable conditions you could get caught in an unexpected downpour, find yourself in marshy terrain, or just pick up fresh morning dew – wet feet make for an unenjoyable hike.
Some waterproof boots are made with treated leather, others are made with durable synthetic materials.
SUPPORT & TRACTION
Lightweight hiking boots and backpacking or expedition style hiking boots will provide different levels of support and traction. If you plan on hiking on technical terrain with plenty of obstacles and changes in elevation, it's best to have footwear that provides greater support and traction.
The level of traction provided depends on the design of the sole and the material used – different brands utilize different tread patterns to maximize grip along with different rubbers to improve control on slippery surfaces.
Support capacity varies between brands and styles but can generally be measured by looking at the height of the ankle on the boot. A higher ankle on the boot is designed to fix your ankle in spot to prevent sprains and twists. Lower ankles can help make you feel more nimble on shorter, less technical or obstacle-ridden trails.
FOOT TYPE
Someone with flat feet (little or no arches) might need more support in a hiking boot, whereas someone with high arches could possibly excel with a more lightweight, minimalist shoe. It's important to find out what type of foot you have prior to purchasing your hiking boots.
DAY HIKING EQUIPMENT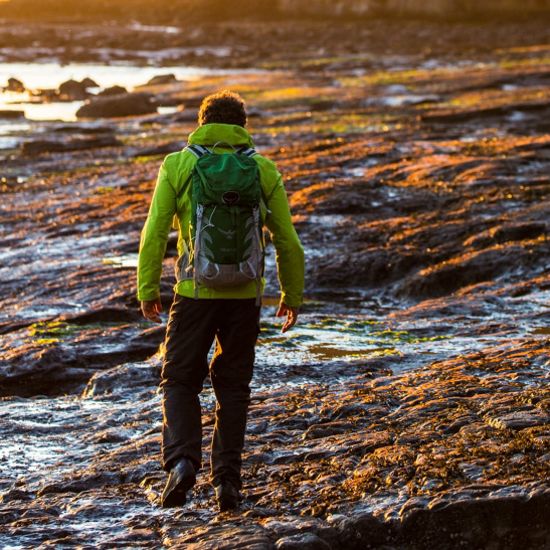 TIPS FROM EXPERIENCED HIKERS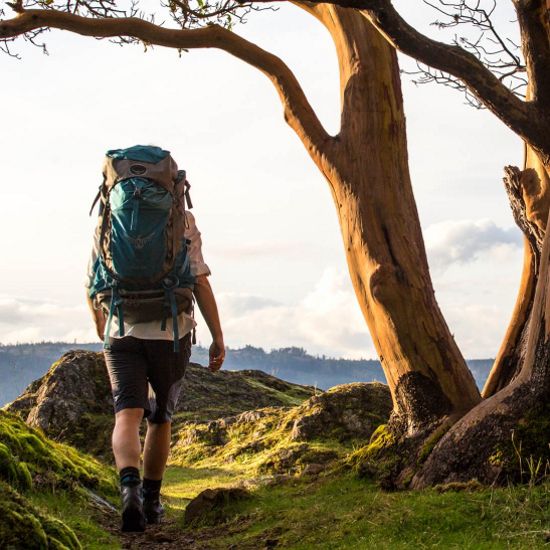 Regardless of where your day hiking takes you, here is some advice that all hikers should consider:
Always carry a map, trail guide, and compass. Make photocopies so you don't have to carry a heavy book.
Make sure you have everything you need to stay dry, warm, fed, and well hydrated regardless of what type of weather hits or if you don't make it to your intended destination.
Carry a first aid kit.
Check the weather before you leave home. Make sure your daypack has everything you might need to stay safe.
Let someone know where you are going and when you expect to return.
Carry plant and wildlife guides to help increase your appreciation of nature.
Obey trail and area closures and restrictions. These are often in place to protect hikers and wildlife from harming one-another or to rehabilitate delicate ecosystems.
Adhesive bandages
Antiseptic wipes
Band-Aids (butterfly bandages)
Gauze pads
Antihistamine (allergy medication)
Epi pen
First aid manual
Sterile pads
Adhesive tape
Ibuprofen or Tylenol
These articles and posts are designed for educational purposes only. When participating in any exercise or exercise program, there is a possibility of physical injury. Please consult with a doctor prior to engaging in any exercise or exercise program. The use of any information provided is solely at your own risk. Product selection is an individual choice and the consumer is responsible for determining whether or not any product is suitable based on the consumer's circumstances.