GETTING STARTED HIKING
Day hiking is one of the most easily accessible ways of enjoying the outdoors. Very little is required to get started and trail options span everywhere from a flat, half-hour trek around a lake, to a full-day adventure up a mountain pass.
Day hiking includes any hike that has no overnight component. To determine the level of skill and amount of equipment you'll require on your journey ask yourself these three questions:
WHERE?
Will you hike an easy trail or a winding one with obstacles?
HOW LONG?
Will you hike for less than hour, half the day, or all day?
HOW FAR?
Will you keep it short or go long distance?
Discover new favourite trails and more of the outdoors with helpful advice from Atmosphere experts.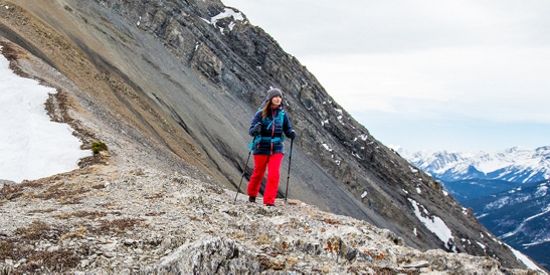 Experience the great outdoors even after the temperature drops well below zero. Hiking in the winter can be a simple and fun way of keeping active and enjoying a unique view of the landscape, but you need the right gear and approach to get the most out of your trip.
These articles and posts are designed for educational purposes only. When participating in any exercise or exercise program, there is a possibility of physical injury. Please consult with a doctor prior to engaging in any exercise or exercise program. The use of any information provided is solely at your own risk. Product selection is an individual choice and the consumer is responsible for determining whether or not any product is suitable based on the consumer's circumstances.