CHOOSING WINTER APPAREL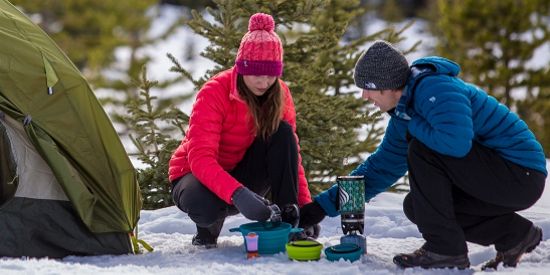 The clothing you choose to wear outside in the winter is a complex system requiring a number of different apparel layers that all work together to keep you dry, warm and moving.
Tip: Dress Like an Onion
The most fundamental rule of dressing for winter activities is to dress in layers. This allows you to easily regulate your temperature during activities and while you're at rest. The number of layers you need and the weight or warming capacity of those garments depends on the type of winter activities you'll be engaging in. First ask yourself:
What kind of activity will you be doing?
The amount of heat your body generates during physical activity (even in the cold) is much greater than what you would produce while not moving. If you're snowshoeing across challenging terrain or climbing a sheer ice face, your body is working hard and generating extra warmth. But as soon as you stop moving heat can dissipate quickly, leaving you chilled to the bone (especially if you're sweaty).
Consider the full range of activities you'll be doing when out in the cold. Winter camping involves plenty of activity while you're hiking into camp and setting up your gear but afterward you won't move very much for extended periods.
Where will you go?
Your apparel choices will be directly affected by the terrain you'll be on and the elevation you'll be at. Higher elevations mean colder temperatures and the potential for greater wind and precipitation. If you'll be climbing rocky terrain, it's best to wear outer shells that are durable and made to withstand rips and tears.
How long will you be outside?
If you plan to be outside for extended periods of time, it's important to consider the drying capabilities of your clothing and their long-term capacity for insulation from freezing temperatures. This includes accessories like your water bottle.
What are the conditions?
It's incredibly important to have up-to-date information about the area you'll be spending time in, especially for backcountry travel where the risk of avalanche is ever-present and deadly. First, read up on the average conditions for this time of year in the area you'll be in. Next, as you get closer to the date of your trip be sure to check the long range forecast. Finally, just before heading out the door check the weather one more time and don't be afraid to postpone the activity if the conditions are worse than what you planned for.
CHOOSING A BASE LAYER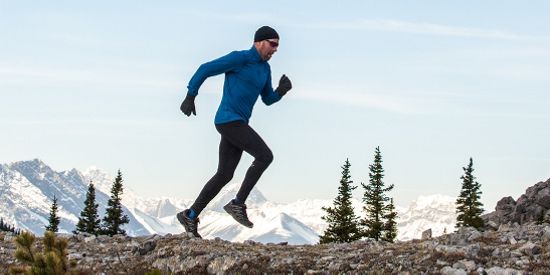 Next to your skin you'll need to wear moisture-wicking, thermoregulating clothing like Icebreaker Merino wool or another type of sweat-wicking, insulated material. Whether it's wool or a type of synthetic material, you need undergarments, tights, socks, and a top that pull the sweat away from your skin faster than it accumulates while you're staying active in the outdoors. Sweat gets cold fast when it doesn't have room to evaporate.
Wear your base layers to bed at night and you'll keep warm throughout your sleep.
Tip: Don't Wear Cotton.
Cotton very easily retains moisture which makes it quick to soak-out. You'll find it nearly impossible to warm up in cotton clothing once it's wet.
CHOOSING A MID LAYER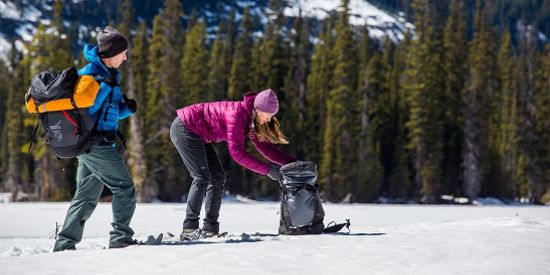 On top of your base layers you'll need to wear a middle layer that creates another level of insulation from the cold. This material should also have some level of breathability, but it's more important that it works to create a space for non-circulating, 'dead' air to become trapped between your body and the outside air.
Popular mid-layer materials include fleece, down and synthetic. The type you should choose will depend on the conditions in which you'll be camping: high wind or low wind, extreme cold or average?
CHOOSING INSULATED OUTERWEAR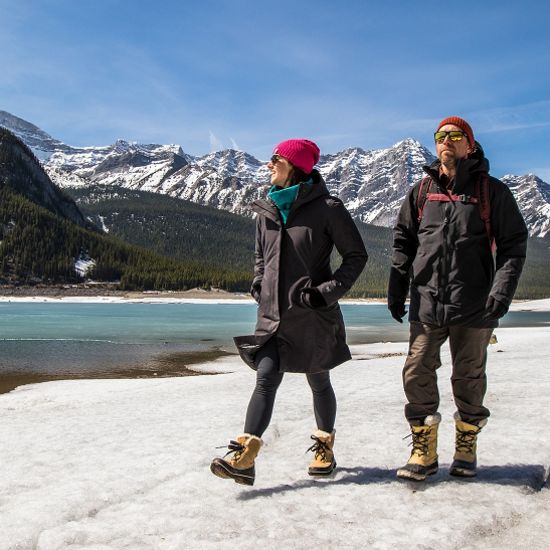 A proper winter jacket that's designed to be warm enough for extreme cold conditions will feature insulation made with down filling or synthetic materials. Like sleeping bags, the benefits of a down-filled jacket are impressive:
· Extremely efficient insulator
· Lightweight material that packs down easily
But these down-filled jackets sometimes have a higher price tag and when there is precipitation most don't dry quickly. This could leave you in a situation where your first line of defense against the winter cold isn't working properly. If you want a jacket that will stand up to moisture as well, synthetic insulation jackets are another great option for winter outerwear–they dry quickly and are less expensive than down.
Other things to consider when looking for winter outerwear appropriate for your outing are the level of waterproofing or weatherproofing and the level of breathability it allows. Even though it's below freezing outside, your body will still be moving around enough to generate heat and sweat.
Your clothing needs to work like a complete system where moisture released from your skin travels outwards past your base layer and is allowed to properly evaporate through your mid layer and your outerwear. At the same time, if your jacket is too breathable it won't trap enough warm air close to your body. Some winter jackets feature ventilation to allow moisture to easily escape.
Tip: Look for an insulated jacket that offers the ability to tighten and loosen the openings at your hands and the bottom to allow air and moisture to vent as your comfort dictates.
CHOOSING A WATERPROOF OUTER SHELL
During periods of extreme precipitation, it can be helpful to wear a protective outer shell made of materials like GORE-TEX® or other synthetics that are waterproof yet breathable. Also, if you're ice climbing or exploring rocky terrain, this extra shell can help protect your other layers from damage as most outer layers are considered somewhat durable.
CHOOSING THE BEST WINTER ACCESSORIES
Whether you're heading out for a thirty-minute hike or snowshoe excursion or you're planning a multi-day winter camping and ice climbing adventure deep in the backcountry, there are a range of items you can include in your gear list to enhance your fun, comfort and success outdoors in the winter.
Socks
The type of winter socks you should choose depends on the type of activity you'll be doing. If you're doing some winter trail running, it's best to use a more lightweight style sock that rapidly wicks sweat away from your foot and provides a healthy amount of insulation. But if you're hiking, snowshoeing , ice climbing or doing a range of other activities you might want a heavier wool sock (or padded synthetic) that provides sufficient insulation, moisture-wicking and padding to keep you warm, dry and comfortable .
Toque & Gloves
Synthetic materials and Merino wool work well to help regulate temperature by wicking away sweat and allowing a level of breathability. Look for a toque and gloves that offer the right level of insulation for the conditions. Also consider the level of dexterity required for your activity.
Sunglasses
Sun reflecting off the snow creates a heavy amount of glare that can be hazardous to both your eyes and your skin. Your trip will be much more enjoyable if you're able to offer your eyes protection from the constant glare of the sun with sunglasses.
Buff or Balaclava
Stop warm air from escaping via your jacket's neck opening by using either a buff or a balaclava depending on the temperature and precipitation level as well as the type of activity you're doing.
These articles and posts are designed for educational purposes only. When participating in any exercise or exercise program, there is a possibility of physical injury. Please consult with a doctor prior to engaging in any exercise or exercise program. The use of any information provided is solely at your own risk. Product selection is an individual choice and the consumer is responsible for determining whether or not any product is suitable based on the consumer's circumstances.