WHAT IS BACKCOUNTRY CAMPING?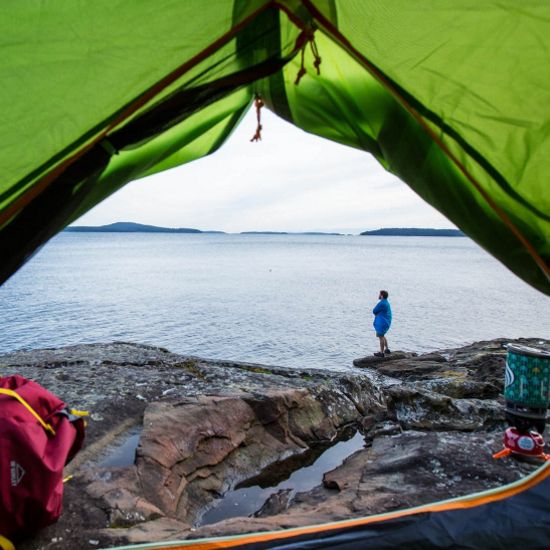 Area of use: Camping in remote, isolated areas where groups must be self-sufficient. Organization and trip planning are critical to matching trip destinations to the group's skill set.
Backcountry campers are required to carry all of their equipment into a remote campsite by hiking, snowshoeing, skiing, or paddling their way in. This means that equipment must be lightweight and fit easily into a backpack or dry bag along with all of your food, clothing, tent, and sometimes water. Backcountry camping is one of the best ways to explore the outdoor world because it takes you farther off the beaten path, away from cars and people, and much closer to wild animals and the natural world.
You must be prepared to deal with any type of weather or emergency using only what's in your backpack.
HOW TO GET STARTED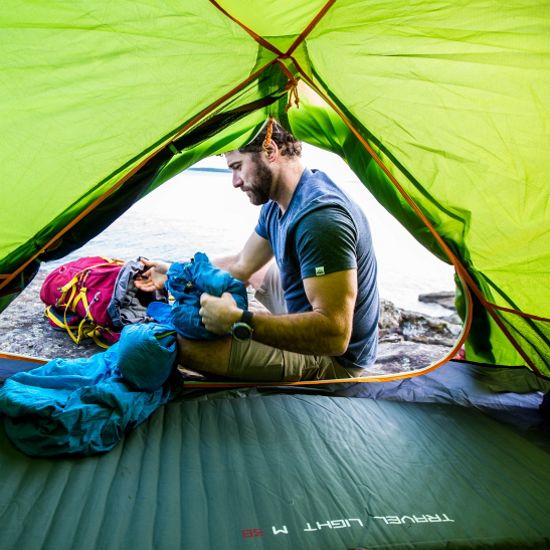 Find an area you're interested in exploring either by visiting your provincial park website or by getting information from other people who've spent time in the area. Ensure you have the proper permits and that random backcountry camping is allowed in the area.
Learn the best trails for visiting the area and pinpoint points of interest you'd like to visit.
The next crucial step will be to lay out a plan for your trip.
Create a detailed itinerary of your trip plans including the point where you'll start, where you hope to spend your time in the area, and when you plan on returning. This information should be left with a close friend or family member who will be able to take action should you fail to return on time.
Preparing for your backcountry camping adventure starts with ensuring you have the equipment you need and also that your gear is in top working condition.
CARING FOR YOUR EQUIPMENT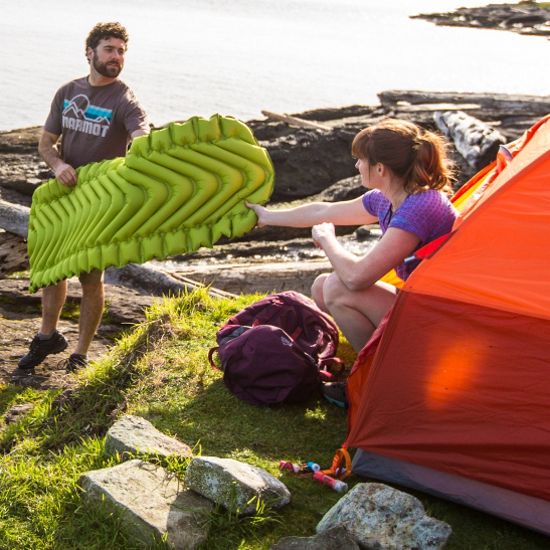 Camping equipment is an investment in what you most enjoy: time in the outdoors. Make sure you care for your campsite to keep it a home away from home. When packing for backcountry camping and other types of lightweight and minimalist camping, you need to find a balance between keeping your pack weight down while being prepared and comfortable in the wild.
Before you go check for working condition:
Make sure you have food for the entire trip and some back-up nutrition in case of emergency. Bring a variety of dehydrated foods and other easy to carry and prepare items like energy bars and jerkies.
Practice setting up your tent so you can do it quickly even if it is dark or raining when you arrive at your campground.
After your trip:
Shake your tent out before packing it away. Never fold a tent; stuff it into its storage bag.
Hang sleeping bags, tents, tarps, and mattresses up to dry thoroughly to avoid mildew before storing at home.
Share photographs and memories with friends and family to help spread the love of the great outdoors.
YOUR ATMOSPHERE: PRESERVE THE ENVIRONMENT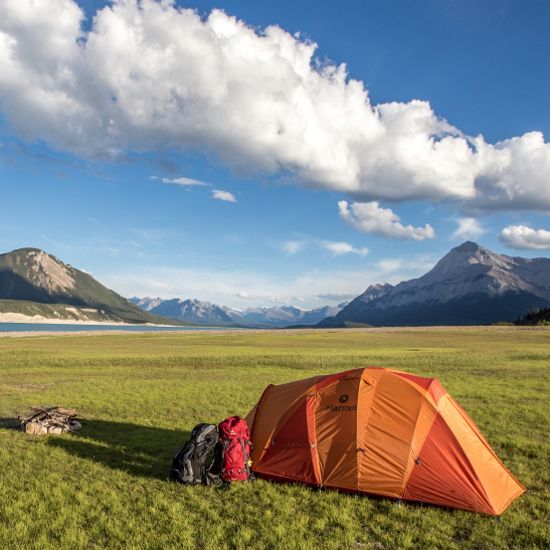 Keep tents on tent pads or sites to preserve the surrounding landscape.
Plan ahead, know what terrain and wildlife you'll encounter.
Travel and camp on durable surfaces .
Only have fires in designated pits and only when permitted. Minimize campfire impacts.
Dispose of all garbage, including food waste, properly.
Recycle all fuel canisters in proper hazardous waste facilities.
Leave what you find. Don't remove things from the natural environment.
Respect wildlife as well as other visitors in the area.
The more you camp, the more you will learn about yourself and what will allow you to best enjoy your outing. Start with the basics and add or subtract equipment to meet your expectations.
Regardless of whether you're a car camper or a minimalist, there are some things that all campers should know to ensure an enjoyable trip.
1. Always have a way to collect and purify water. Even in front-country campgrounds there may not always be potable water available.
2. Read campground/park rules before setting out. Not all camping areas allow pets or fires and some have special restrictions to keep wildlife safe.
3. Make reservations. Popular campgrounds fill up quickly especially around long weekends.
4. Have everything you need to be self-sufficient. Even if you are close to a town, you'll appreciate not having to leave to grab supplies or take care of some first aid.
BACKCOUNTRY CAMPING BACKPACKS
Choosing the right bag for your backcountry adventure can be the most important step you take.
LARGE OR FRAMELESS BACKPACKS
Some lightweight backpackers like to go with an ultra-lightweight frameless style backpack because of the reduction in size and weight, making their total pack weight lower. Others will go with a larger bag that makes packing, unpacking and quick retrieval of items simpler.
Also important to consider is that when a large bag is lightly packed it's easier for the weight to be evenly distributed (balanced while strapped on your back). A small bag packed too tightly can feel off-balance if one compartment is overstuffed.
CAMPING ESSENTIALS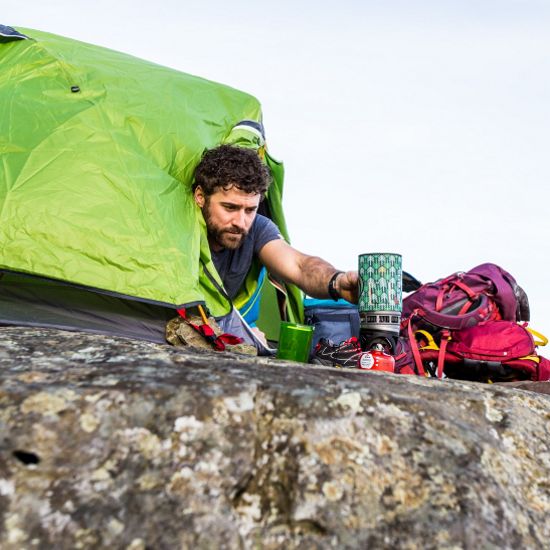 No matter what type of camping you do, there are a few pieces of equipment you should never forget. Some items should be your personal responsibility and always in your pack, other items can be shared with the group:
Packing tips:
1. Keep the heaviest items in the centre of your bag to make balancing the weight easier. Too top heavy or too bottom heavy and your bag won't sit properly on your back while you walk.
2. Pack frequently used items near the top and less frequently used items like your sleeping bag & pad near the bottom.
3. Ensure you have fast access to a light source and bear spray
4. Here's an example of a well-packed backpack: sleeping bag and pad at bottom, water, food, and fuel at the core, clothes and extras up top.
PERSONAL GEAR
Pack (large enough to comfortably carry all your gear on your own)
Hat and gloves
Base layer – moisture-wicking underwear, tights and top for regulating core temperature
Mid layer – a top that creates another barrier between you and the elements and also traps warm air close to your body.
Rain gear – breathable and waterproof is best
Sunglasses (UV protection)
Hat (sun protection)
Headlamp and extra batteries
Pocket Knife
Toiletries
GROUP GEAR
Tent with footprint (the footprint is optional in backcountry & lightweight camping but does help to reduce damage to the environment)
Cooking pots and utensils
Basic repair kit
Whistle
Sunscreen and bug repellent
Bear spray
Food hang
Map and compass
GPS (optional)
Fire starter kit
BACKCOUNTRY CAMPING EXTRA COMFORTS
Sometimes performing at your peak on the trail, climbing a rock face or engaging in any other outdoor activity has as much to do with your comfort as it does your ability. Backcountry camping may require a reduction in the number of items you might normally bring but there are certain pieces that are worth their extra pack space and weight:
Camp shoes
Bandana or buff for your neck and chest
Pack towel
Camera
Field guides
Accessory cord
Multi tool
BACKCOUNTRY CAMPING EXTRA COMFORTS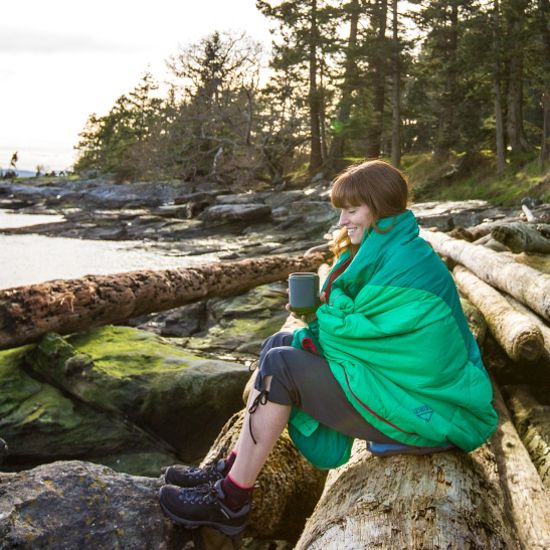 Other equipment to add to your comfort include:
Cooler & ice
Hatchet
Pillow
BBQ
Collapsible wine glasses
Bike
Shower supplies
Camera with case
Sun/bug shelter
Wash basin/scrubber/dish towel
These articles and posts are designed for educational purposes only. When participating in any exercise or exercise program, there is a possibility of physical injury. Please consult with a doctor prior to engaging in any exercise or exercise program. The use of any information provided is solely at your own risk. Product selection is an individual choice and the consumer is responsible for determining whether or not any product is suitable based on the consumer's circumstances.