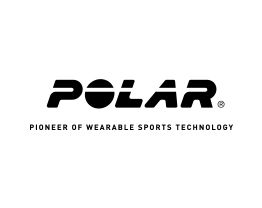 Item #: 332349798
When it comes to accuracy and connectivity, Polar H10 heart rate sensor is the go-to choice. Monitor your heart rate with maximum precision and connect your heart rate to your training equipment.
Features:
Hook up Polar H10 with Polar Beat, Polar's free fitness and training app, and get accurate real-time heart rate directly to your phone.
Polar H10 works with leading fitness apps, compatible gym equipment and many other Bluetooth devices. Connect your heart rate to your favorite app or gym machine and optimize your training to reach your goals.
Specifications:
Compatibility: iOS mobile devices iPhone 4S and later and Android mobile devices with Bluetooth 4.0 capability and Android 4.3 or later.
Updates: Via mobile phone using Polar Flow app or Polar Beat app
Connector size: 34x65x10 mm
Weight: Connector 21 g (0.74 oz), strap 39 g (1.38 oz)
Memory: One training session
Battery type: CR 2025
Materials: Connector: ABS, ABS + GF, PC, Stainless steel. Strap: 38% Polyamide, 29% Polyurethane, 20% Elastane, 13% Polyester, Silicone prints.
iOS mobile devices iPhone 4S and later and Android mobile devices with Bluetooth 4.0 capability and Android 4.3 or later. Please see more information here.
Updates
Via mobile phone using Polar Flow app or Polar Beat app
Connector size
34x65x10 mm
Weight
Connector 21 g (0.74 oz), strap 39 g (1.38 oz)
Memory
One training session
Battery type
CR 2025
Battery life
400 hours with BLE and 5 kHz transmission active
Water resistance
30 m (Suitable for swimming)
Materials
Connector: ABS, ABS + GF, PC, Stainless steel. Strap: 38% Polyamide, 29% Polyurethane, 20% Elastane, 13% Polyester, Silicone prints.
Operating temperature
-10 °C to +50 °C / 14 °F to 122 °F
iOS mobile devices iPhone 4S and later and Android mobile devices with Bluetooth 4.0 capability and Android 4.3 or later. Please see more information here.
Updates
Via mobile phone using Polar Flow app or Polar Beat app
Connector size
34x65x10 mm
Weight
Connector 21 g (0.74 oz), strap 39 g (1.38 oz)
Memory
One training session
Battery type
CR 2025
Battery life
400 hours with BLE and 5 kHz transmission active
Water resistance
30 m (Suitable for swimming)
Materials
Connector: ABS, ABS + GF, PC, Stainless steel. Strap: 38% Polyamide, 29% Polyurethane, 20% Elastane, 13% Polyester, Silicone prints.
Operating temperature
-10 °C to +50 °C / 14 °F to 122 °F
iOS mobile devices iPhone 4S and later and Android mobile devices with Bluetooth 4.0 capability and Android 4.3 or later. Please see more information here.
Updates
Via mobile phone using Polar Flow app or Polar Beat app
Connector size
34x65x10 mm
Weight
Connector 21 g (0.74 oz), strap 39 g (1.38 oz)
Memory
One training session
Battery type
CR 2025
Battery life
400 hours with BLE and 5 kHz transmission active
Water resistance
30 m (Suitable for swimming)
Materials
Connector: ABS, ABS + GF, PC, Stainless steel. Strap: 38% Polyamide, 29% Polyurethane, 20% Elastane, 13% Polyester, Silicone prints.
Operating temperature
-10 °C to +50 °C / 14 °F to 122 °F
iOS mobile devices iPhone 4S and later and Android mobile devices with Bluetooth 4.0 capability and Android 4.3 or later. Please see more information here.
Updates
Via mobile phone using Polar Flow app or Polar Beat app
Connector size
34x65x10 mm
Weight
Connector 21 g (0.74 oz), strap 39 g (1.38 oz)
Memory
One training session
Battery type
CR 2025
Battery life
400 hours with BLE and 5 kHz transmission active
Water resistance
30 m (Suitable for swimming)
Materials
Connector: ABS, ABS + GF, PC, Stainless steel. Strap: 38% Polyamide, 29% Polyurethane, 20% Elastane, 13% Polyester, Silicone prints.
Operating temperature
-10 °C to +50 °C / 14 °F to 122 °F
iOS mobile devices iPhone 4S and later and Android mobile devices with Bluetooth 4.0 capability and Android 4.3 or later. Please see more information here.
Updates
Via mobile phone using Polar Flow app or Polar Beat app
Connector size
34x65x10 mm
Weight
Connector 21 g (0.74 oz), strap 39 g (1.38 oz)
Memory
One training session
Battery type
CR 2025
Battery life
400 hours with BLE and 5 kHz transmission active
Water resistance
30 m (Suitable for swimming)
Materials
Connector: ABS, ABS + GF, PC, Stainless steel. Strap: 38% Polyamide, 29% Polyurethane, 20% Elastane, 13% Polyester, Silicone prints.
Operating temperature
-10 °C to +50 °C / 14 °F to 122 °F