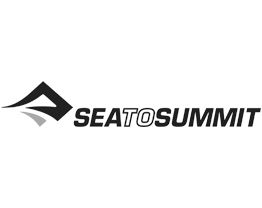 Item #: 331900956
Our Comfort Plus Insulated sleeping mats with their dual layer construction provide the most effective system for fine-tuning the level of comfort available in any air mattress today. The two independent high-resolution cell layers give excellent support by distributing your body weight and shape over more cells. The dot-welds in the two layers are also offset for more uniform insulation and cushioning.

Due to the fact that the two layers can be pressurized independently, the top layer can be inflated to your personal comfort, while maintaining a high-pressure base layer for protection from the rough or uneven terrain. Both layers can be adjusted independently using the fine tune valve to get just the right level of softness and support.

We use Exkin Platinum, a quiet non-woven fabric, to reflect radiant heat back to the user and Thermolite®insulation to prevent convective heat loss between your body and the ground. All Sea to Summit air sleeping mats come with a quality stuff sack, a repair kit containing six self adhesive patches for repairing punctures in the field, and a spare silicone one-way valve insert.
Features:
Exkin Platinum® fabric and Thermolite® insulation are combined to prevent radiant and convective heat loss
Dual layer design ensures a level of built-in redundancy; if you do end up with a puncture in one layer of the mattress, the other layer remains fully functional
Multi-function valve for fast and easy inflation, deflation and fine tuning of air pressure
The Comfort Plus range features two separate layers of Air-Sprung Cells™ each with its own valve for unparalleled comfort
We have pioneered the use of a liquid TPU lamination process in outdoor products. Common in the medical and aeronautical industries, it is vastly superior to the roll-to-roll film lamination process usually used in air pads. The TPU bonds better and more consistently than a film, virtually eliminating delamination issues
An anti-microbial treatment is added to the TPU to prevent issues caused by warm, moist air trapped inside the mat
The Comfort Plus Mat has an R-Value of 5 and is ideal for all season use
Specifications:
Dimensions; 168 x 55 x 6.3 cm
Packed Dimensions: 11.5 x 23 cm
Weight: 715 g
Vendor Style Number: 925