Andre Lessard – Loving Alberta Trail Running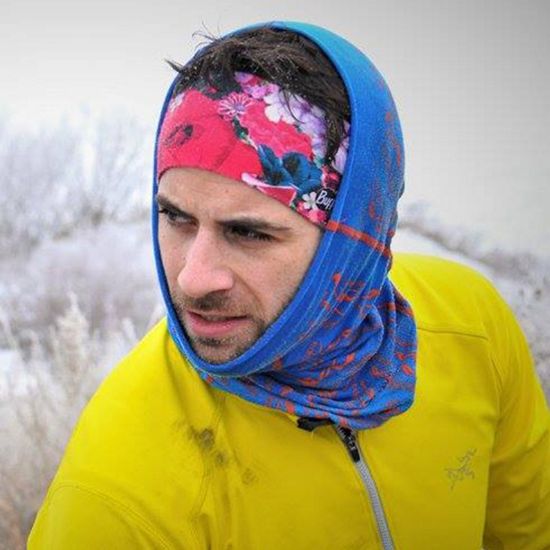 Andre Lessard
Footwear Manager
West Edmonton Mall
Edmonton, AB
Trail runner for 7 years
"Join a running group!"
Hey, Andre. Great to talk with you. How are the running trails in Edmonton, Alberta these days?
They're great. It feels like you're in the middle of the wilderness or up a mountain rather than in the heart of a city,
How did you get into trail running in Alberta?
I started running back in 2010 as a way to improve my overall fitness and I branched off into trail running after beginning to explore all the incredible trails in the city. That sense of adventure really propelled me to keep running and keep exploring.
Some of my first runs were just a way for me to simplify my commute. I was rollerblading to work (about 10 kilometres) but found lugging them around was a bit annoying so thought I could just run instead!
Are you training for anything right now?
Yeah, I'm competing in the Boston Marathon on April 17th and I've been training hard for the past few months. As part of my training I like to mix it up between road and trail, but I would say the majority of my running is done on the trails.
This will be my fourth Boston Marathon but I also compete in 5 Peaks races often as well. They're trail oriented and a little more casual and fun I find. I've also completed a couple of 50KM ultras like the Grizzly Ultra in Canmore.
Can you tell me about the trail running gear you're running in?
I made the switch from Salomon to a more minimalist shoe a few years ago, the Vibram FiveFingers, but ended up back in Salomon trail running shoes, the Sense Pro 2. Looking back, I should have eased into a minimalist shoe a little more slowly because they force you to engage new muscles in your feet and legs. I did a 15km run the first time wearing my Vibrams and I could barely walk the next day. They did change my gait for the better, but the initial shock was a bit more than I was expecting. Now I'm looking for the best minimalist style road running shoe I can find for the upcoming Boston Marathon.
You aren't going to race in the shoes you've been training in?
No, I like to get a new pair right before the race and only put around 10kms on them before the big day. That way they maintain maximum support and still have that springy and responsive feel that only comes from new shoes. Plus, those shoes then become a kind of trophy for that particular race. I won't race in them again.
How do you think trail running is different from other activities?
It's incredibly different, I think. Even from road running.
With trail running, you're always exposing yourself to new challenges and routes. Because you're constantly navigating different types of terrain and elevation, your body is forced to constantly adapt, compensate and find balance with every step. You end up with an array of stabilizing muscles in your legs and feet that would be hard to develop in any other way and which provide you a lot of power when it comes to improving running stamina.
There's also the exploration and adventure aspect of trail running that I love. I don't think I would have explored the outdoors in quite the same way or to the same extent if I hadn't taken up running. When you compare it to hiking, you cover much more ground much more quickly. It's definitely my preferred way of exploring the outdoors.
How do you track the kilometres you cover?
I've used a range of fitness trackers over the years but right now I'm using the Garmin Vivo Active Hr. The heart-rate monitoring and GPS are crucial for me but what I really like are the training insights. I find myself wearing it all day and really get a lot out of having a dedicated fitness tracker.
What about your trail running gear and hydration for those longer runs?
I almost always wear compression sleeves (2XU is my preferred brand for compression gear) on my calves, along with compression shorts and when it's cold, compression sleeves for my arms.
The compression sleeves on my calves help with blood flow to my legs and help keep me stable. But I notice that especially on those longer runs, blood sometimes pools in my forearms so I like to slip on compression sleeves to help with that.
As for hydration, I'm a bit weird. I don't like to bring water with me on longer runs because there are sometimes water fountains along my routes, but when I do feel like I need a water break on those longer runs, I'll use my Lifestraw to get a drink from the North Saskatchewan or another nearby stream. It saves me from having to carry a water bottle or hydration pack.
Do you think there was a time in your running career where your decision to embrace running was solidified? A moment where you knew there was no looking back?
Absolutely. It was the summer of 2015. I was in the Canada Day race in Edmonton, a 15km road race and I blew away my own expectations for my performance. I was hoping to finish in under an hour and did it in something like 56 minutes, which puts my pace around 3:46 seconds a kilometre. I didn't think I could be that fast and after finding out I could, I just wanted to keep pushing myself.
What was one of the more challenging moments in your running career?
Actually, one of the biggest setbacks I faced turned into something pretty positive from my point of view. It was a few weeks before the Edmonton Marathon and I was injured during a game of ultimate frisbee. I collided with someone and hurt my leg, specifically the IT band, which meant that it hurt to run for more than five minutes at a time. So instead of running in the Edmonton marathon, I decided to help out by taking photos of friends and members of the running community as they competed. Being on the other side of the barrier and just focusing on cheering my friends on was a really nice change of pace for me.
Where do you want to take your trail running abilities in five years from now?
I'd like to work my way up to ultra marathons and then really push myself with that type of race. Eventually I want to be competing in 100 kilometre trail races.
Do you have any advice for people looking to get into trail running?
Yes, absolutely. If you feel like you're hitting a wall with your training or you're not always motivated to get out and discover new trails, join a running group. Reach out to your local trail running community and get involved with as many activities as you can. Having a group of people behind you will really help push your abilities to the next level quickly.