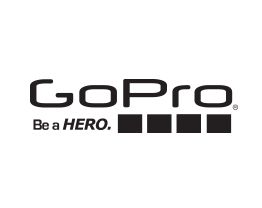 Everything starts with HERO11 Black—the most powerful GoPro yet. Its new image sensor captures more of the scene with higher image quality, better video stabilization and the flexibility to turn your footage into wide cinematic shots or extra-tall vertical shots for social posts. It features 5.3K video and 27MP photos, plus Emmy® Award-winning HyperSmooth 5.0 stabilization and dual LCD screens for framing your shots.
Features:
Unbelievable Image Quality: With 5.3K video that gives you 91% more resolution than 4K and an incredible 665% more than 1080p, HERO11 Black captures the action with crisp detail and cinematic image quality. A water-repelling lens cover even helps eliminate lens flare and other artifacts to make your photos and videos even more stunning.
Rugged + Waterproof to 33ft (10m): Completely waterproof and as tough as ever, HERO11 Black is versatile enough for any adventure. It's built to take a beating and keep going, whether you're ripping through mud, snow or water (to depths of 33ft/10m). The durable and scratch-resistant lens cover adds even more protection and can be easily replaced if needed.
Webcam + Live Streaming: Use the HERO11 Black as an ultra versatile webcam or live stream your next activity as you vlog with buttery HyperSmooth video stabilization and sharp resolution.
Mounting Flexibility: Swapping mounts takes just seconds, thanks to built-in folding fingers. No frame needed—just flip them open, attach your camera and go. Better yet, every awesome accessory for HERO9 Black and HERO10 Black is compatible with HERO11 Black.
Revolutionary New Image Sensor: HERO11 Black's powerful new image sensor delivers the most expansive field of view ever on a HERO camera out of the box. This gives you an extra-large canvas for your creativity by capturing more of the sky and horizon in every shot. Simply use the GoPro Quik app to zoom in, crop your shots, adjust aspect ratios and more while keeping the rich textures and sharpness of your footage.
High-Res Photos + Videos, High Frame Rate: HERO11 Black's new image sensor boosts photo resolution up to an incredible 27MP while delivering 5.3K60 video with amazingly fluid motion. You can also grab stunning photos up to 24.7MP of favorite shots from your videos using the GoPro Quik app. Plus, record 2.7K240 video that can be played back in 8x slo-mo to catch details that can't be seen at normal speed.
Emmy® Award-Winning HyperSmooth Stabilization: HyperSmooth has never been better. And now it's won a huge award for its insanely smooth footage—a 2021 Emmy® for In-Camera Sensor and Software Stabilization. HyperSmooth 5.0 raises the bar even more with Horizon Lock, improved stabilization for 4:3 aspect ratio footage thanks to the new image sensor, and AutoBoost for maximum stabilization with minimal image cropping. Bike, skate, ski, chase your kids through the park or get some awesome pet POV shots—even the shakiest footage comes out silky smooth.
Ultra Versatile 8:7 Aspect Ratio: The 8:7 aspect ratio captures more of the scene in each shot. The added height makes it perfect for creating extra-tall 9:16 vertical shots or any other size you need for any social media platform with less cropping using the GoPro Quik app or other editing software. Using the app, you can zoom in on the best sections of your videos to create high-resolution punchouts of the action while cropping out the rest. Also great for photos, this versatile format makes it easy to change the aspect ratio and make other adjustments to fine-tune your shots after you've taken them.
New Night Effects: HERO11 Black features three new Time Lapse modes that let you get creative after dark. Star Trails uses the Earth's rotation and stars to capture beautiful light trails across the night sky. Light Painting lets you create brilliant brush stroke effects with moving light. Vehicle Light Trails uses night-time traffic to record stunning light trail footage.
Specifications:
Accessories List: Batteries Included
Advanced Features: Slow-Motion Recording
Assembled Height (in): 1.9257 in
Assembled Height (mm): 49 mm
Assembled Length (in): 2.751 in
Assembled Length (mm): 70 mm
Assembled Weight (kg): 0.127 kg
Assembled Weight (lb): 0.28 lb
Assembled Width (in): 1.3362 in
Assembled Width (mm): 34 mm
Audio Capability: Audio Compatible
Batteries Required Quantity: 1
Battery Technology: Lithium-Ion
Battery Type/Battery Size: Integrated Rechargeable
Connectivity: Bluetooth
Digital Zoom Rating: 2x
Display Size (cm): 6.858 cm
Display Size (in): 2.7 in
Display Type: LCD Touch Screen
Focusing Modes: Autofocus
Frames per Second: 240
Light Type: Not Applicable
Maximum Operating Temperature (°C): 35 °C
Maximum Operating Temperature (°F): 95 °F
Memory Card Capacity (Gigabyte): 256 GB
Memory Card Type: Micro SD
Minimum Operating Temperature (°C): 10 °C
Minimum Operating Temperature (°F): 50 °F
Mount Style: Screw-In
Non-toxic When Used as Intended: Yes
Number of Cameras Included: 1
Number of Pieces: 1
Optical Zoom Rating: No Optical Zoom
Range (ft): 50 ft
Range (m): 15.24 m
Smart System Compatibility: iOS App, Android
Sustainability: Product contains recycled content
Type of Video Camera: Action Camera
Viewing Angle (degrees): 150 °
Voltage (V): 3.85 V
Water Resist Depth (ft): 32.8084 ft
Water Resist Depth (m): 10 m
Wattage: 0 W