CHOOSING A STAND-UP PADDLEBOARD (SUP)
Combining the best elements of surfing and kayaking, stand-up paddleboards allow you to engage your entire body while cruising across open water or up a pristine coastline. This new vantage point gives you a fresh perspective as you can peer down into the water below while paddling forward. The sensation of surfing has never felt so stable, propelling across the water has never been smoother and diving overboard to cool off has never been easier.
Buying the right stand-up paddleboard for you begins with these three questions:
WHERE?
Will you ride on flat, open water or find some waves?
HOW LONG?
Will you paddle for a few hours or all day?
HOW FAR?
Will you cruise just off the coast or venture farther out?
Recreational Stand-up Paddleboards (SUPs)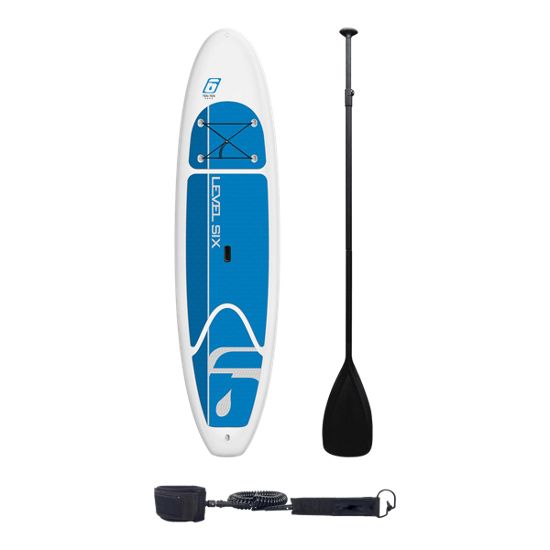 These types of stand-up paddleboards are designed for everyday use by beginners and intermediate paddlers who want to get out for some easy fun on the water. Choose a wider SUP if you'll be paddling for a short period of time and want to maintain a high level of stability and control. Longer SUPs allow for faster travel over long distances because they cut through the water efficiently. Your weight will also have an impact on the type of recreational stand-up paddleboard you'll need.
View all Stand-up Paddleboards Available in-store only, find an Atmosphere location near you.
Stand-up Paddleboard Dimensions & Features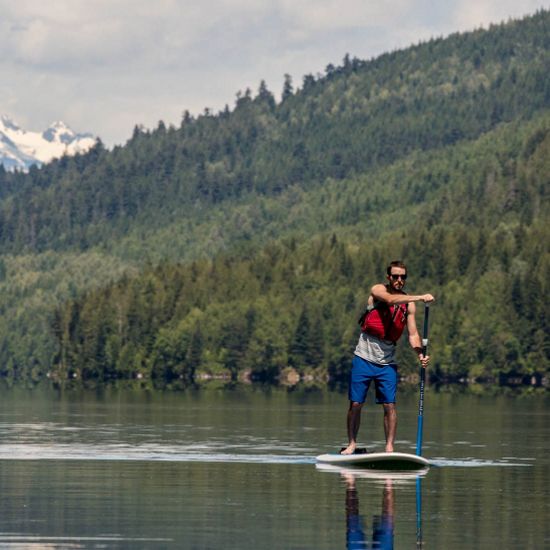 Length:
The longer the stand-up paddleboard, the more efficiently it will travel across water and keep a straight line (called tracking). Longer SUPs can be more difficult to maneuver for beginner paddlers while shorter SUPs have improved maneuverability.
Boards 9 - 12 feet are great for recreation, fitness and all-around use in calm waters.
Boards larger than 12 feet allow a more complete paddle stroke; this will help generate more speed. Longer boards are ideal for flat to moderately choppy waters.
Width:
Wider SUPs are more stable on the water. Feeling sturdy while you're paddling will go a long way towards your enjoyment and success. SUPs also become more maneuverable the wider they get.
Paddleboards that are 31 inches or wider are easier to stand on, but an increase in surface area will cause your overall speed to be slower in the water. Paddleboards that are less than 31 inches are designed for the more experienced paddler as they are faster and a little more unsteady.
Fins:
These assist in stability and increase the SUP's ability to track in a straight line. All SUPs come with a centered fin-box featuring one large fin but some boards offer the option to add 2 – 4 additional fins to increase control.
Stabilizing grips:
Most stand-up paddleboards come with strategically placed grips on top of the board for your feet. The grips should help you feel more stable and also help you engage your upper body more while your feet stay firmly planted.
Stand-up Paddleboard Accessories
Water Safety Equipment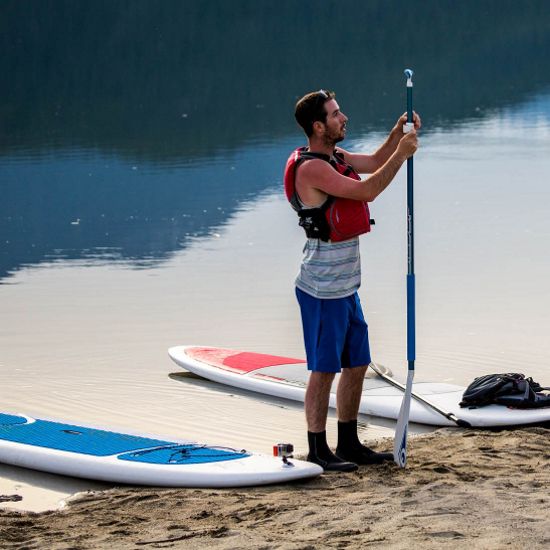 Staying safe on the water is your responsibility but preparing yourself for an emergency isn't a daunting task if you take a few simple steps. There will be no reason to panic as long as you prepare your craft properly with a combination of mandatory safety pieces regulated by the Government of Canada.
The Government of Canada requires all vessels to be equipped with these items:
Atmosphere recommends the following items in addition to the above list:
Please Note that boating regulations change from time to time, so make sure you are up-to-date with the current information by visiting the Transport Canada's Safe Boating Guide. If the Safe Boating Guide differs from the regulations, it is the text in the current regulations that will apply.
https://www.tc.gc.ca/media/documents/marinesafety/TP-511e.pdf
Shop Paddleboarding Accessories