Kayak & Stand-up Paddleboard Accessories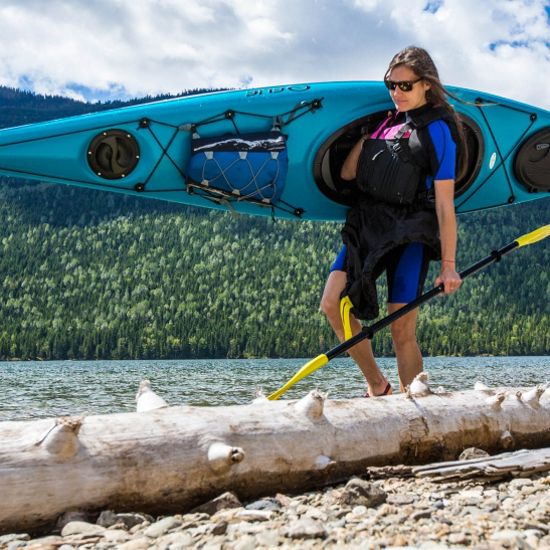 Plan to have more fun on the water when you carry the right accessories for getting to and from the shore, packing essential food and clothing items, and equipping your craft for personalized comfort and performance.
Choosing Drybags & Sacks
Sometimes having the right amount of storage can make or break your excursion. Using a drybag to carry your food, equipment, and extra clothing ensures those essentials will stay dry and ready for use when you need them.
The specially designed nylon fabrics used on the outer layer of these bags offers three advantages:
o Water repellant
o Lightweight
o Durable
No matter the length of your excursion on the water, the last thing you need to do is carry unnecessary weight, but you also need a travel bag that can withstand water, wind and intense wear and tear.
When choosing a drybag, consider the amount of gear you'll want to bring with you and also whether the bag you've selected will fit properly in your kayak. Your voyage will be much less successful if you can't fully close the hatches.
A Paddle Float
A paddle float, paddle leash or paddle keeper is an item that should be considered a necessity on the water. You never want to be stranded in the middle of a body of water because your paddle has drifted away from your craft. You can choose from a few different styles based on your own personal preferences and whatever you're comfortable with.
Choosing a Spray Skirt
Designed for use with touring kayaks, a spray skirt helps keep the water out of your cockpit. It's the kind of accessory that can make a real difference during a long trip as it'll go a long way toward keeping you dry, comfortable and performing right.
Spray skirts are made with nylon that efficiently wicks sweat away while still offering a level of breathability to help regulate your body temperature. The most important detail to consider when selecting a spray skirt for your touring kayak is the size as it should fit snugly and securely around the cockpit. Take a close look at the dimensions of your kayak when selecting your spray skirt size.
The 10 Atmosphere Watersports Essentials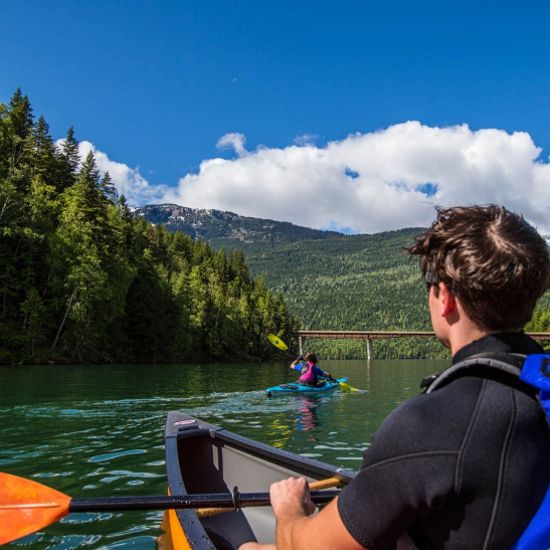 Carry these items with you in a drybag when venturing out on the water to ensure a safe trip.
1. Navigation method
Bring a map, compass or GPS device with you. Remember that your phone battery may die prematurely and utilizing electronics on the water can be risky.
2. Extra water
Carry more water than you plan on drinking to ensure you won't be stuck without it in an emergency.
3. Food
You don't want your energy level to crash while paddling, and especially not if you're in an emergency. Pack snacks to replenish lost calories during trips of any length.
4. Layering system
Pack at least one extra warm layer along with a water-resistant or waterproof jacket. It's critical you're able to raise your body temperature when wet to prevent the onset of hypothermia. Don't wear cotton.
5. First aid kit
Simple injuries like sprained ankles (extremely common), bug bites and blisters can become serious problems in the outdoors if untreated.
6. Knife
This should be in any outdoorsperson's kit. Whether you're freeing yourself from tangled rope during a rescue or cutting wood to start a fire, there are an endless number of potential uses for a knife in the outdoors.
7. Light
Find a flashlight or headlamp that's water-tight to ensure you have light no matter the conditions or time of day. Transport Canada Mandatory Safety Equipment
8. Sound signalling device
It's easier to call attention to your emergency situation using an inexpensive whistle rather than trying to shout loud enough to be heard. Transport Canada Mandatory Safety Equipment
9. Fire starter
A lighter is incredibly light and easy to store in a dry place on your craft and is a reliable way to get a fire going in an emergency.
10. Communication device
Bring your phone or a radio to ensure you're able to contact emergency services in any situation where you require help.