Play Finds A Way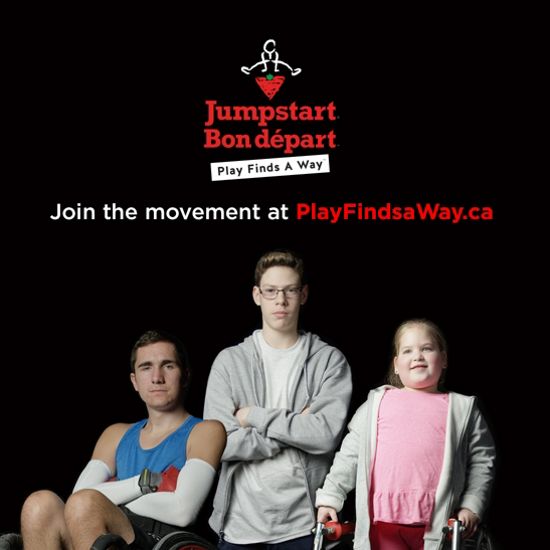 Frequently asked questions
1. What is Jumpstart's Play Finds A Way?
Since 2005, Jumpstart has disbursed more than $135 million to help Canadian families overcome financial barriers to sport and play, with funding for program registration, equipment and transportation. Thanks to an additional five-year $50 million commitment from Canadian Tire Corporation, Jumpstart has expanded its mandate to help remove barriers for kids with disabilities.
2. How does Jumpstart's Play Finds A Way differ from the current Jumpstart program?
Jumpstart's Play Finds A Way supports selected organizations with the costs associated with infrastructure and programming as they relate to providing inclusive play opportunities for kids with disabilities.
3. What kind of disabilities does Jumpstart's Play Finds A Way address?
Jumpstart's Play Finds A Way movement is an inclusive program designed to support a range of disabilities including physical, sensory and cognitive. We work closely with all our partners to try to accommodate as many types of disabilities as possible based on the needs identified by our Community Partners.
4. What are the three programs funded by Jumpstart's Play Finds A Way?
Jumpstart's Play Finds A Way comprises three distinct programs: Jumpstart Accessibility Grants, the Parasport Jumpstart Fund and the Jumpstart Inclusive Playground Project.
Jumpstart Accessibility Grants are intended to support capital costs of construction and renovations related to improving physical accessibility to, and inclusivity in recreation facilities for children with disabilities in Canadian communities.
The Parasport Jumpstart Fund is a partnership between Jumpstart and the Canadian Paralympic Committee. Together we help kids with disabilities participate in a variety of exciting parasport activities, by assisting their families with the cost of participation.
The Jumpstart Inclusive Playground Project Our goal is to create universally accessible playgrounds in each province and territory across Canada where children of all abilities can share in the magic of play. These imaginative and accessible spaces will set the new standard for inclusivity.
5. How can I donate to Jumpstart's Play Finds A Way program?
Secure donations can be made by clicking here. For donations of $20 or more, you will receive a charitable tax receipt.
About Jumpstart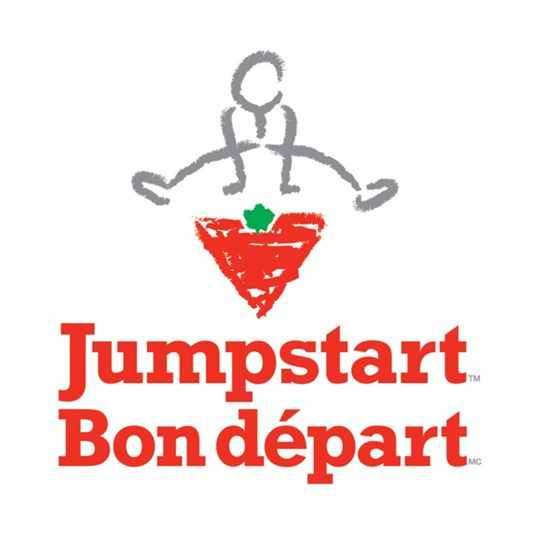 What is Jumpstart? Jumpstart is a national charity with a commitment to local communities. Jumpstart Charities gives kids a sporting chance. Participating in sport helps kids develop physical and social skills. It helps build self-esteem. By helping kids get into the game, we're equipping them with determination. And we're giving them confidence that will extend beyond practices and games. Jumpstart is more than just about getting kids active. It's about giving kids from families in financial need the same chance to participate as their neighbours, their classmates and their friends. Whether it's the chance to try a new sport or to continue with a favourite one, no kid should be left out. The vision of Jumpstart is simple: Canada, where all kids have a chance to fulfill their dreams.
In Canada 1 in 3 families cannot afford to enroll their kids in organized sports. That's almost 750,000 kids every year who want to play, but just can't. Jumpstart can help. Jumpstart funding helps families that need a financial hand with the costs associated with registration, equipment and/or transportation. Jumpstart works with an extensive network of local Chapters in communities across Canada. These Chapters include organizations such as local Parks and Recreation Departments and Boys and Girls Clubs. The organizations that make up the local Chapter help identify kids in need who wish to participate in sports and physical activity.
Money raised within each Chapter stays within the community and goes directly to help kids participate in sport, dance or other organized physical activities.
Since 2005, more than 1 million kids between the ages of 4 and 18 have been helped by Jumpstart. That number grows every day.