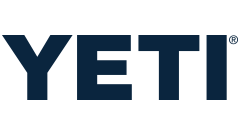 YETI
YETI makes gear that's built for the wild— raging rapids, grizzly bears, and extended backcountry treks included.
The founders grew up on boat decks and deer leases, where gear improved every year – except coolers. They lost good times to handles that broke and lids that caved in. And they always outlasted the ice. They tried every modification, but cheap equipment will always be just that. Deciding to never settle again, they founded YETI to build the cooler that could stand up to your adventures, and still bring cold drinks to the cleaning table or campfire afterwards.
YETI has applied the same over-engineering principles to create their Rambler Collection - Lowball Cups, Mugs, Tumblers and Bottles that are durable and rugged to withstand life's challenges in the field, on the lake or at the farm.
YETI Hard Coolers
YETI Hard Coolers are over-engineered to outperform and sized for all adventures
YETI Hopper Soft Coolers
YETI Soft Coolers are built for extreme conditions and tough enough to accompany you on your next adventure.
YETI Drinkware
YETI Drinkware keeps your drinks as cold (or hot) as science allows, they're the next-level addition to your rough commutes, day hikes, or kayak trips.
YETI Bags, Packs and Accessories
From epic excursions to life's daily excursions, YETI bags, packs and accessories are ready for the challenge.
YETI Tundra Hard Coolers
YETI Hard Coolers never back down from a challenge, their supreme insulation power delivers unbeatable heat- and ice-retention, and their virtually indestructible armour outwits all wildlife and weather.
Shop Hard Coolers
How to Pack Your YETI Cooler
Learn how to pack your YETI Tundra cooler for maximum ice retention.
Shop Hard Coolers
YETI Premium Coolers, Drinkware & Outdoor Gear
YETI offers the best premium coolers and accessories that are the superior in design, performance and durability. The YETI cooler line, including the Tundra Series, is built to take the rugged abuse that comes with adventure. Unlike ordinary coolers, which simply don't last, YETI is made to withstand the most abuse of any outdoor cooler. Made using rotomolded construction and more than twice the insulation, YETI coolers consistently outperform the competition. Atmosphere carries the Tundra, Roadie, Hopper, Panga Duffel, Rambler and more amazing YETI products. Shop Atmosphere.ca for the most rugged & durable coolers in Canada.